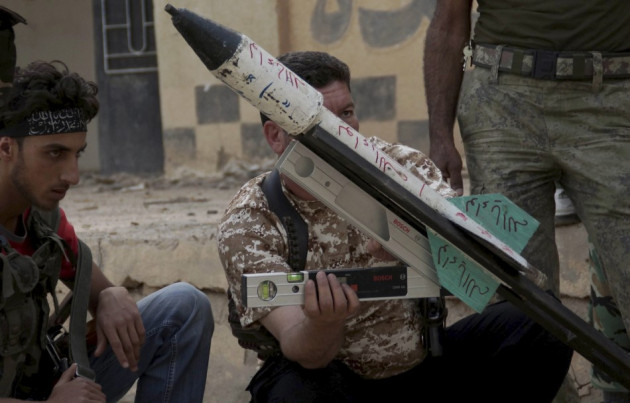 Fierce fighting is raging in the key Syrian town of Qusair located on Syria's border with Lebanon as the Shiite militant group Hezbollah has joined President Bashar al-Assad's forces in the onslaught against the rebels.
More than 50 people have reportedly been killed while the fighting has spilled over into parts of Lebanon. Nearly 20 of the dead were from Hezbollah, sources told Al Arabiya.
Rockets emerging from Syria struck the outskirts of Lebanon damaging properties. No casualties have been reported from Lebanon so far.
Qusair has been a rebel stronghold and Assad's troops have launched an operation to recapture it. The regime-backed state media in Syria said "stability" has been restored in the town, but the claim was refuted by the opposition groups.
Hundreds of civilians are trying to flee the conflict zone to the neighbouring Lebanon fearing a "massacre" in the region, suggest local reports.
"It is the biggest assault yet, they [the regime] are using all their firepower," an activist who goes by the name of Mohammad al-Qusair told the Lebanon-based Daily Star.
Reports from the region suggest that Assad's forces, backed by at least 1,000 ground troops, have deployed fighter jets and tanks which are bombarding the region. The offensive went on throughout the night.
Another anti-regime activist named Hadi Abdallah, speaking from Qusair, told Reuters: "The army is hitting Qusair with tanks and artillery from the north and east while Hezbollah is firing mortar rounds and multiple rocket launchers from the south and west."
Noting the importance of Qusair, the activist added: "There are several different strategic, diplomatic, and political factors that make Qusair particularly important. It is the heartland of the Alawite community, it has been used as a conduit for supplies, men and guns going in to Syria and it is close to Lebanon. Assad wants to make sure he is in the strongest position possible if this conference takes place."
Qusair, in Homs province, has become the new battleground as the civil-war-turned uprising in Syria is developing into a Shiite-Sunni sectarian issue.