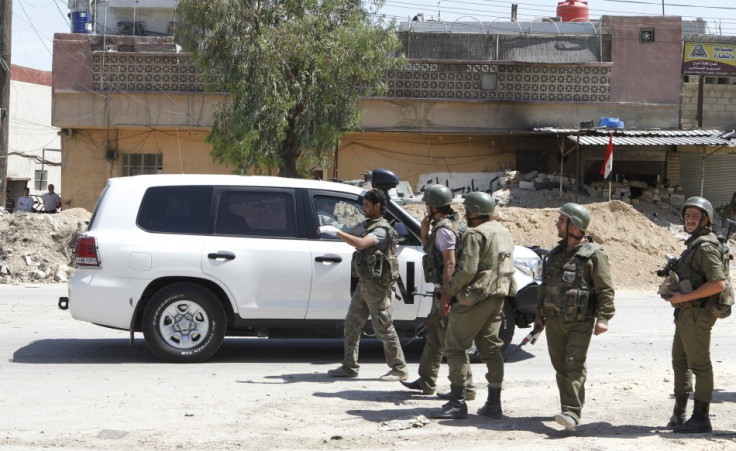 President Bashar al-Assad's regime in Syria is reportedly piling up chemical weapons in the restive Homs province even as UN monitors began probing the Tremseh massacre which claimed more than 220 lives.
According to Fox News, US intelligence has intercepted several signals which confirmed the movement of chemical weapons to Homs, one of the worst affected regions in Syria.
The country has the largest stockpile of chemical weapons in the Middle East and if unleashed, they could cause unimaginable havoc.
It is not clear whether Sarin nerve gas has been converted into weapons or not. The process of using Sarin as weapon is much simpler. It will also not stay in the air after an attack which may favour Assad's regime as it could deny such attacks, added the Fox report.
"We know they've been moved, but we don't know where they are right now," a military source was quoted by Fox News.
A top British source confirmed the report to Sky News saying it was a "pretty accurate description." However the report quoted a top US intelligence official as saying that Assad may or may not have a direct hand in chemical weapons.
There is also a possibility that top military commanders, without the direct intervention of Assad, would have called for transportation of the chemical weapons; in that case, the power shift is likely to escalate matters.
For a long time, fears have existed among world leaders of chemical weapons falling into the hands of terrorists.
Chemical weapons have been produced mainly in Hama, Latakia, Al Safira and the Centre D'Etude et Recherche Scientifique near the capital Damascus, according to the Sky News report. It is believed to have been stored across the country.
"Clearly, if there was a suggestion the Syrian regime might start using chemical weapons that would escalate things to a whole other level," Sir Mark Lyall Grant, the British ambassador to the UN was quoted in the report.
Western powers are piling up pressure on the Syrian regime and this is evidently annoying Assad.