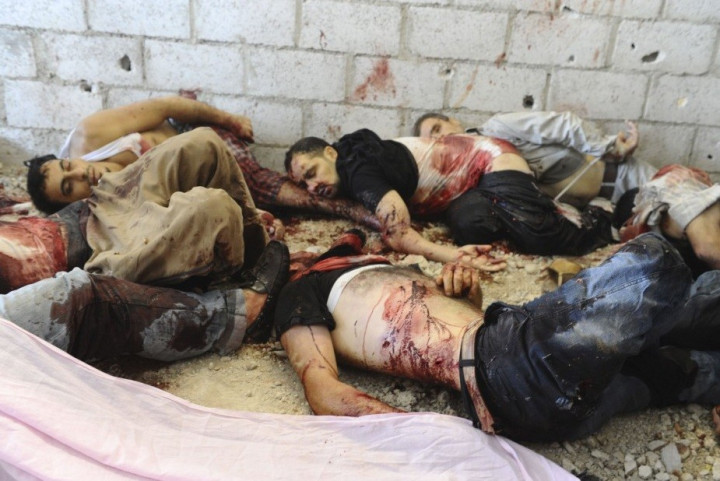 President Bashar al-Assad's forces have reportedly slaughtered more people in Daraya town, near the capital Damascus, than was earlier feared.
Latest reports from the region show more bodies being discovered, putting the total number between 300 and 600. The initial death toll was put at about 200 - in itself one of the highest in the 17-month-long uprising against the regime.
Most of the victims were shot in their chest and head indicating execution-style massacre. If the reports are true, the death toll would represent the bloodiest mass killing in the uprising.
It is unclear when the massacre took place. Residents said Assad forces encircled the whole area to prevent civilians from fleeing the town followed by targeted shelling. Troops are believed to have conducted house-to-house raids to slaughter the survivors.
Gruesome videos have surfaced online showing the scale of carnage undertaken by Assad's forces. In one unverified video, men believed to be government troops, torture captured rebels including children.
Another video shows several bodies of children who were shot in their head lined up. Many of the victims appear to be quite young.
Mass burials of the massacre victims have been undertaken in the Sunni-dominated Daraya town. Before the burial, the bodies were washed by hoses and blood-soaked bodies wrapped in blankets were lined up closely next to each other.
Assad appears to be in no mood to halt the bloodshed until the very end, suggests a new report.
"It is clear that was collective punishment. I am certain that the coming days will reveal more massacre, but by then others will have taken place and people will forget about Daraya," an activist from Damascus, Khaled al-Shami, told the Press Association.
Daraya, with a population of around 200,000, and the closest town to Damascus, was one of the first few regions to protest against the regime during the early days of the uprising.