Syria Massacre: William Hague Summons Syrian Diplomat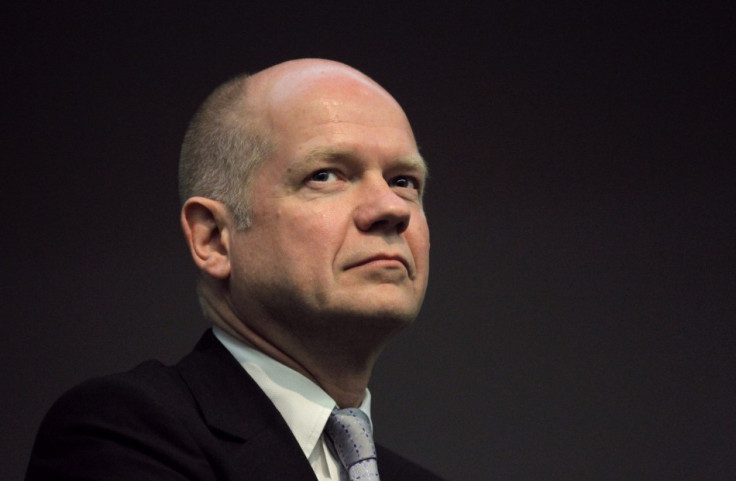 British Foreign Secretary William Hague summoned the most senior diplomat in the Foreign Office over the Houla massacre in Syria, where up to 90 people including 32 children were killed, it has been reported.
A series of Twitter messages posted by Hague on Sunday revealed his desire to put pressure on Syria to end the violence.
The messages are:
@WilliamJHague In Moscow tomorrow. Will call on Russia to support rapid & unequivocal pressure on #Assad regime and accountability for crimes. #Syria
@WilliamJHague Speaking to UN/Arab League Envoy Kofi Annan shortly to discuss urgent steps on #Syria violence
@WilliamJHague Charge d'affaires at Syrian Embassy in London will be summoned to @foreignoffice tomorrow at my instruction over #houlamassacre
Deputy Prime Minister Nick Clegg also condemned the attack and said members of the regime will be banned from the Olympics, according to a BBC report.
Clegg told the BBC's Andrew Marr show that entry to the UK would be denied to those in the Syrian Olympic delegation who were found to be part of the Assad regime.
"As far as we are concerned, we have recently said very clearly: if you've abused human rights - that's shown to be the case - you are not welcome in this country," the BBC reported Clegg as saying.
UN officials have confirmed the numbers in Houla where the regime reportedly opened fire at the villagers.
"The death of 32 innocent children, lots of women and men but in particular the children, is an unacceptable attack on the future and on the aspirations of the Syrian people. Whomever started, whomever responded, whomever contributed to it," said Maj. Gen. Robert Mood, the UN mission chief in Syria.
However, the state-run news agency SANA termed the attack as an act of the terrorists.
"Armed terrorist groups attacked law-enforcement forces and civilians in the nearby town of Teldo, which prompted security forces to intervene and engage the terrorists,'' SANA reported on Saturday.
© Copyright IBTimes 2023. All rights reserved.