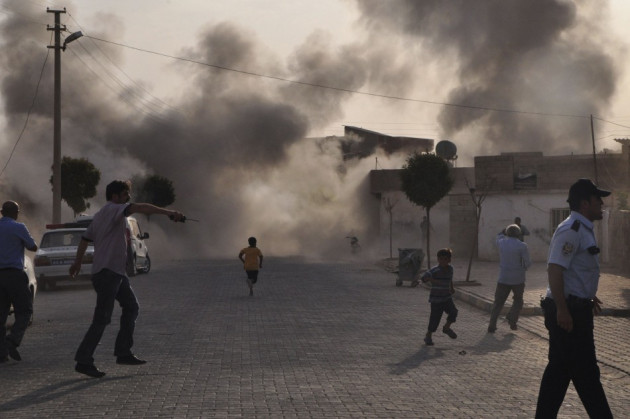 Turkey has fired mortar shells into government targets inside Syria in retaliation for a deadly mortar attack apparently by Syrian forces that killed five of its nationals in the Turkish border town of Akcakala in Sanliurfa province.
The casualties included a woman and three children, and at least seven people were wounded.
Several Syrian troops were reportedly killed in the Turkish attack, a first since the beginning of 18-month uprising against Bashar-al-Assad.
"Our armed forces on the border responded immediately to this atrocious attack within the rules of engagement, and points in Syria determined by radar were hit with artillery fire," said a statement from the office of Turkish Prime Minister Recep Tayyip Erdogan.
"Turkey, within the confines of the rules of engagement and international law, will never leave these types of provocations aimed at our national security unanswered."
The Turkish parliament is set to debate the Syrian aggression on its territory and on extending the role of the country's military on cross-border operations in the light of the latest attack from Syria. The parliament is already planning to renew the military's operations in neighbouring Iraq.
Syria's state-owned news agency SANA said the Syrian government was offering its "sincerest condolences" to the families of the deceased Turkish nationals.
"In case of border incidents that occur between any two neighbouring countries, countries and governments must act wisely, rationally and responsibly, particularly since there's a special condition on the Syrian-Turkish borders in terms of the presence of undisciplined terrorist groups spread across the borders who have varying agendas and identities," said Syrian Information Minister Omran al-Zoubi, according to CNN.
UN Secretary-General Ban Ki-moon has also expressed his condolences over the "tragic loss of life".
He urged Turkey "to keep open all channels of communication with the Syrian authorities with a view to lessening any tension that could build up as a result of the incident".
The UN Security Council is due to meet to condemn Syria's attack on Turkey.