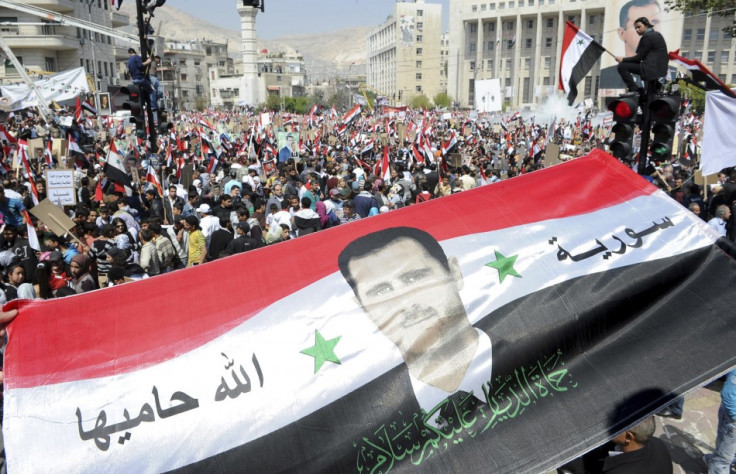 Despite the Syrian government apparent assurance, analysts insist sanctions imposed by western states, coupled with the continuing protests have hit the Syrian economy, posing a growing challenge to President Bashar al-Assad's government.
Months of protests and international sanctions have contributed to the weakening of the Syrian economy, deepening the recession and wrecking its tourism industry, leading the International Monetary Fund to announce it expects Syria's economy to shrink this year, by at least 2 per cent.
Despite a series of international calls on Assad to step down and months of protests that killed an estimated 2,900 people, Assad has brushed off criticisms and warnings, with the help of his political supporters.
The cohesive block made up of Assad's own clan and the state security forces may be slowly starting to crumble as analysts in the region have warned the regime has relied on its economic success to assert its legitimacy.
However with the crumbling economy now threatening all layers of the Syrian society, desperation starts to fill the streets as months of unrest show no signs of dying down and people complain they struggle to afford basic products.
Reports last week alleged Assad and his closest allies had recently put much of their western properties portfolio on sale, showing the regime needs cash.
Other observers have however warned the Syrian regime could now use the economic downturn to rally its people against a common threat, highlighting the role of economic sanctions imposed by western countries.
If political analysts have ruled out a rapid government collapse, they insist the situation could in the long run bring down Assad, with estimates going from 6 to 18 months for regime collapse.
As the European Union ban on import is set to be fully implemented in November observers have warned revenues from oil and gas exports, which account for up to a third of state revenues and are the single biggest source of foreign currency, are set to sharply drop, further hampering the economy.
Months of protests coupled with the regime deadly crackdown have also paralysed the tourism industry, which previously accounted for $7.7 billion a year, with hospitality insiders complaining many hotels have already been forced to close in Damascus as they struggled to pay salaries and bills.
With the death toll of civilians continuing to increase, analysts are however worried as sanctions have not stopped the authorities from imposing their brutal repression, and many warned, the economic decline could lead the Syrian regime to depict foreign powers opposing Assad as also harming the population, in order to direct anger at the west rather than the regime.
The Assad family has been in power for decades, and it is not the first time the country faces sanctions.
Meanwhile, the authorities have repeatedly denied allegations that sanctions had affected the economy, with Mohammad al-Jleilati, the finance minister, saying in September that the country had $18 billion in foreign currency reserves, enough to secure imports for two years.
However, recent statistics published by the Syrian Investment Agency, a state-run firm that oversees investment in Syria's infrastructure, transportation and agriculture sectors, highlighted a fall in consumer and investor confidence, while figures show that assets in Syria's five largest banks dropped by nearly 17 per cent in the first half of 2011.
Assad's appeal was partly based on his ability to consolidate the Syrian economy and the politician often portrayed himself as a moderniser, establishing a secular regime whilst championing Arab nationalism.
While just a month before the protests started the International Monetary Fund projected growth rates of up to 5.1 per cent for 2012, new figure are much bleaker, with observers now saying economy could make or break the Assad regime.