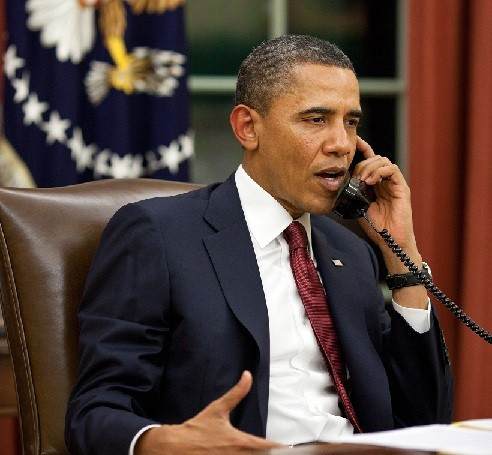 The Obama administration is hardening its position against the Assad regime and has announced new sanctions, in an attempt to increase pressure on the leader and his government's brutal repression of the opposition.
The U.S. Treasury Department announced on Wednesday that it has added the state-owned Commercial Bank of Syria and its Lebanon-based subsidiary, the Syrian Lebanese Commercial Bank, and mobile phone company Syriatel to its financial blacklist.
The sanctions will enable the Obama administration to freeze any assets the firms may have in U.S. jurisdictions as well as bar Americans from doing business with them.
Sources have said that the Washington will soon call formally on Assad to step down, a step Washington has until now refused to publicly take, unlike some of its European counter-parts.
Meanwhile violence in Syria is still on-going and new reports of the security forces launching assaults against opposition members recurrently emerge.
On Thursday, the Syrian Observatory for Human Rights claimed it had the names of five people killed and 16 wounded in morning raids by security forces backed by tanks in Qusair, an area located near the Lebanon border.
According to activists the assault took place after anti-regime protesters staged demonstrations calling for Assad's demise.
However another report from the Syrian Revolution Coordinating Union, reported at least nine deaths including a woman and a baby, which they said had been killed by random gunfire in the same city.
Tanks and regime forces were also allegedly deployed in the town of Saraqeb and the Idlib province near the border with Turkey.
At least 1,700 civilians have been killed since the beginning of the unrest according to rights groups but with most foreign journalists banned, most reports are difficult to verify.
Countries have been more united against Assad in the last few weeks and some of Syria's former allies have now taken a more distant attitude to Damascus.
Regional powers Turkey, Saudi Arabia and Egypt have all condemned the violence imposed by the Syrian regime on the protesters, and called on the violence to stop immediately.
European members of the UN Security Council on Wednesday threatened that the UN could take stricter sanctions against Syria if the regime forces continued their violent attacks and Russia, which had in the past threatened to veto a UN resolution on Syria, called for the implementation of new reforms.