Syria: Al-Qaida Unleashed Damascus Slaughter says UN's Ban Ki-moon
UN Secretary-General Ban Ki-moon said he believes the global Islamic terrorist network Al-Qaida was behind two recent car bombings that killed 55 people in Damascus.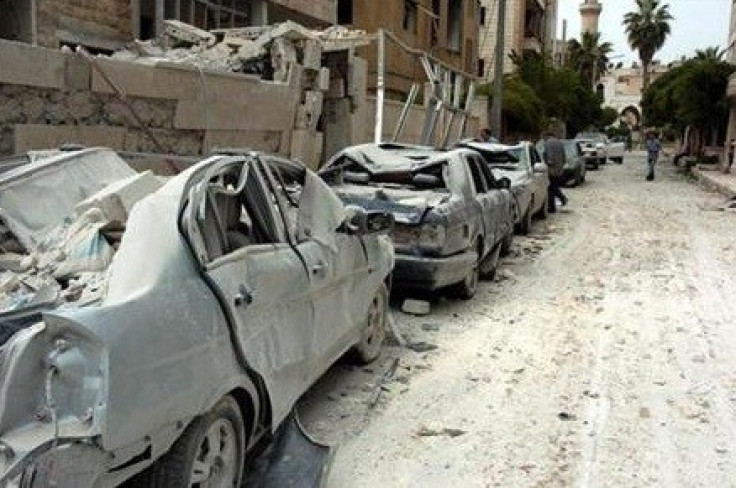 UN Secretary-General Ban Ki-moon said he believes the global terrorist network Al-Qaida is behind two car bombings that killed 55 people in Damascus.
On May 10 two car bombings killed at least 55 people and injured about 370 others in Damascus.
Now Ban said he believes AL-Qaida's involvement in the region "has created very serious problems."
"A few days ago there was a huge, serious, massive terrorist attack. I believe that there must be al-Qaida behind it. This has created again very serious problems," Ban said on Thursday.
Since the beginning of the Syrian uprising, the regime of president Bashar al-Assad has blamed terrorist groups for much of the violence.
Syrian authorities sent the UN a list of 26 foreign nationals they have apprehended since fighting started more than a year ago and insists 20 of them are working for al-Qaida, crossing into Syria from Turkey.
Ban also pointed out UN monitors team have been attacked twice as fighting still rages.
"The deployment of monitors has some dampening effect, the number of violence has reduced but not enough, not all the violence have stopped," Ban said while addressing youth group at UN headquarters in New York.
"We are trying out best efforts to protect the civilian population," he added.
Dmitry Medvedev, who was president of Russia for four years before Vladimir Putin's inauguration on May 7, has once again voiced Russia's opposition to Western intervention.
"Hasty military operations in foreign states usually bring radicals to power," Medvedev said.
"At some point such actions which undermine state sovereignty may lead to a full-scale regional war, even, although I do not want to frighten anyone, with the use of nuclear weapons," he warned.
Palestinian writer tortured and deported
More reports of torture by the Syrian regime emerged this week after authorities deported Palestinian writer Salameh Kaileh to Jordan following three weeks of detention.
He was arrested and tortured for his anti-regime writings, the prominent writer told Al Arabiya.
Kaileh said security forces stormed his house on April 23.
"There was no violence at first. They took my computer, the laptop, USB storage devices and searched my files," he said.
"They interrogated me in a rude manner about leaflets they found at my house entitled al-Yasari (The Leftist). I told them I had nothing to do with them."
"They then took me to a security office. At first I didn't know where I was exactly, but later I found out from other detainees that it was an air force intelligence office."
"The authorities interrogated me. The main question they asked me was where did I print the leaflets? But I did not print them."
Kaileh revealed it was a slogan in the leaflet that read: "For Palestine to be free, Syria's regime has to fall," that angered the Syrian forces the most.
"It was their anger at this line, more than anything, which resulted in me being badly beaten."
"When I said that I had nothing to do with the leaflets, I was hit and kicked so much that my legs could have been broken. I was hit with a wide wire cable so much that I fell on the ground. He [an officer] swore at me repeatedly. He'd ask the same question and I'd give the same answer; that I have nothing to do with the leaflets."
Kaileh, 57, who holds a Jordanian passport, was deported to Jordan and said he was hospitalized in Amman as a result of his detention.
The writer however noted: "What I experienced was only a fraction of what the other detainees, with whom I was imprisoned, were going through. They were being horrifically tortured."
© Copyright IBTimes 2023. All rights reserved.