Syria: Over 100 killed in air strikes in Idlib and Aleppo hours after US-Russia reach peace deal
If the truce is sustained for 7 days, the US and Russia would launch air strikes on Isis and al-Nusra front.
Around 100 people were killed in air strikes in rebel held areas of Idlib and Aleppo on Saturday (10 September), hours after the US and Russia announced a 10-day truce – beginning on 12 September – to ease the suffering of civilians.
At least 60 were killed in an air strike that hit a vegetable market in Idlib province and about 45 were died in a bomb dropped in Aleppo, the BBC cited activists as saying.
The Syrian Observatory for Human Rights said at least 13 children and an equal number of women died in the Idlib attack, but did not confirm how many civilians perished. It added that some of the bodies were "burned beyond recognition". Rami Abdel Rahman, head of the observatory said, "People were shopping before [Muslim festival] Eid al-Adha next week, which is why the toll is so high."
It is not yet clear who conducted the air strikes.
Late on Friday (9 September), the US and Russia announced a truce that would come into force on Monday after sunset, the first day of Eid-al-Adha. US Secretary of State John Kerry said that the ceasefire if sustained for seven days, the US would forge a military partnership with Russia to launch air strikes on Islamic State (Isis) militants and al-Nusra front.
The Syrian opposition welcomed the deal and Bassma Kodmani, a member of the main opposition High Negotiations Committee (HNC) said that more details were needed as to how the plan would be implemented.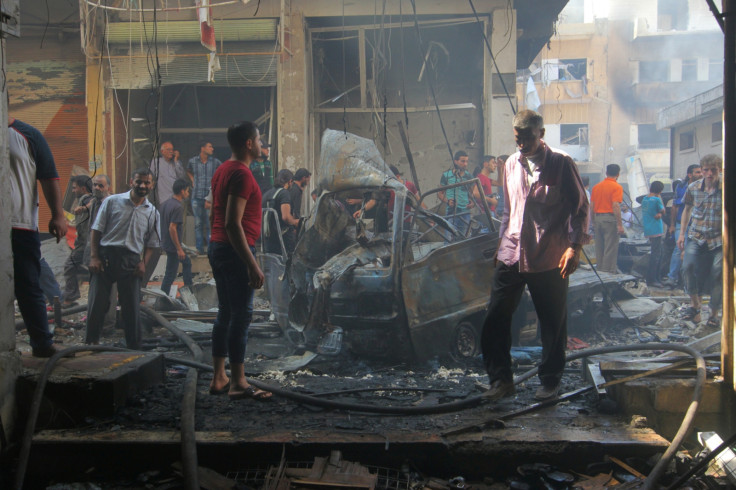 "A violation by the regime should be met with a perhaps military response. That is what makes it credible, really. If we have a credible line of cessation of hostilities, then we can look to moderate groups in the opposition to disassociate themselves from extremists." Al Jazeera quoted her as saying.
In a letter sent to Syrian rebels on Saturday, US Special Envoy for Syria urged them to distance themselves from the hard line group Jabhat Fateh al-Sham, formerly affiliated with al-Qaeda. Meanwhile, state news agency Sana reported that the Syrian regime in Damascus also welcomed the ceasefire and the United Nations envoy to Syria, Stefan de Mistura said that the UN would exert all efforts to deliver humanitarian aid during the truce.
© Copyright IBTimes 2023. All rights reserved.