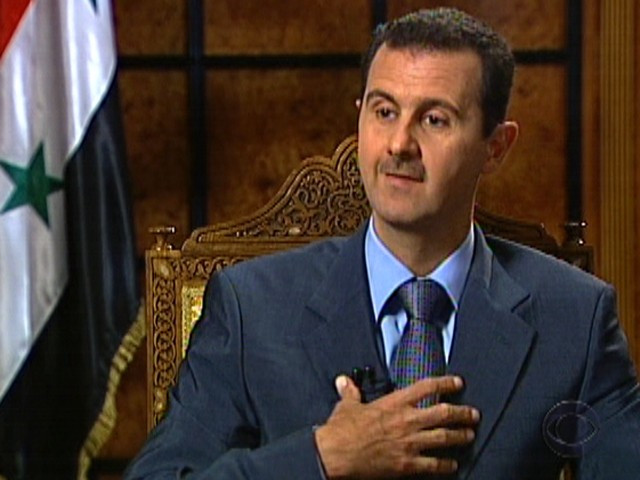 As anti-government feeling in Syria refuses to quiet down, in his latest speech following three months of unrest, Syrian President Bashar al-Assad said on Monday he would form a committee to study reforming Syria's constitution, claiming it would make recommendations within a month.
In a speech at Damascus University, Assad also urged thousands of refugees who fled the unrest in northern Syria to neighbouring Turkey to return as soon as possible and guaranteed their safety, saying that the "army is meant to protect the citizens."
However the leader maintained that no political solution was possible with people who bear arms.
A national dialogue will begin soon, he said as he promised parliamentary elections in August and a complete reform package by September, before warning that in listening to calls for reforms, the government must distinguish between people with legitimate needs and "saboteurs".
During his address he also promised to ask the Justice Ministry to mull expanding the recent amnesty he had extended to political prisoners, and said that 64,000 people have been wanted by Syrian authorities, some of which, he claimed, have handed themselves in.
Assad stressed that the Syrian government has already started implementing reforms, saying examples are the laws he had passed for the right of peaceful protest and his lifting of the state of emergency.
While he acknowledged that many innocent people fell during the protests, and noted that Syria's main option is "to look at the future."
He mentioned the recent attack on the northwestern town of Jisr al-Shughour, calling protesters "gunmen with sophisticated weapons and communications" who had carried out a "massacre" in the city.
The president decided to address the nation as, despite brutal suppression by his regime, hundreds of thousands of Syrians have taken to the streets in the past three months to demand greater democracy and civil liberties. Human rights groups have said more than 1,300 civilians have been killed in the unrest.
The latest crackdowns came at the weekend in north-western Syria when government forces besieged several towns. Tanks and machine guns were sent in Saturday to stop anti-government rallies in Bdama near the Turkish border and army forces fired randomly at houses and besieged the town, injuring at least 20 people, opposition groups said.
It is unsurprising that Assad dismissed the refugees' pleas. While he assured the army's main goal was to protect the people, it seemed over the week end, that the regime had launched a real operation against government opponents and deserters in Idlib province, since it resulted in more than 10,500 people, including 5,300 children, fleeing to Turkey in the past 10 days.
Moreover, when most of these people are now homeless, how are they supposed to go back to their homes?
Assad's promises are unlikely to satisfy the protesters. He brushed aside most of the real complains. How will he draw the line between people with legitimate needs and the "saboteurs"? It is his regime's inability to do so that started the protests in the first place.
It sounds utterly unrealistic as well to claim that in the current situation, people who were wanted by the government have handed themselves in voluntarily.
Sadly it has become clear that Assad will never acknowledge his forces are recurrently violating basic human rights in his name and in an attempt to traumatise the people into submission. However while his speech might be enough to calm down the international community it seems unlikely that the Syrian people will take him at his words.