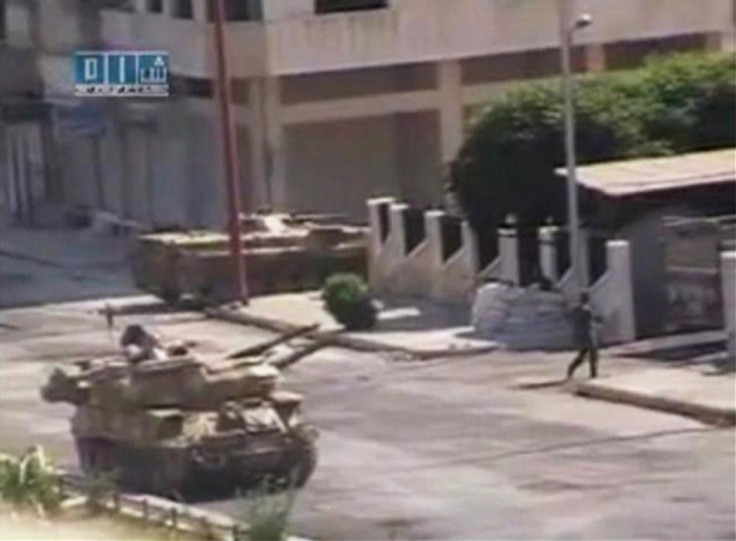 Syrian troops firing machine guns and backed by tanks stormed into the restive central town of Rastan Tuesday, activists say.
Tanks and other armored vehicles entered the town of Rastan, which lies on the road to Turkey near the central city of Homs, early in the morning after besieging it for two days, they said.
The move comes as Syrian authorities continue efforts to suppress protests that began six months ago.
The offensive began overnight and continued through the morning, leaving at least 20 people wounded, the London-based Syrian Observatory for Human Rights reported.
The United Nations estimates that more than 2,700 civilians, including 100 children, have been killed by the government since the uprising against the 41 years of Assad family rule began in mid-March.
The Syrian government blames the violence on "armed gangs" it says have killed 700 members of the security forces, and foreign meddling.
In a speech Monday to the U.N. General Assembly in New York, Syrian Foreign Minister Walid Mouallem accused the U.S. and EU of jeopardizing the interests and basic needs of Syrians while pronouncing concerns for their security and rights.
U.S. State Department spokesman Mark Toner again called for Syrian president Bashar Assad to step down so that a democratic transition can take place. He said Assad is no longer the legitimate leader because of his government's violent attacks on its own citizens.
Assad has sent troops across the country to quell an uprising by protesters.
Events from Syria are hard to verify as international journalists have been largely prevented from reporting there.