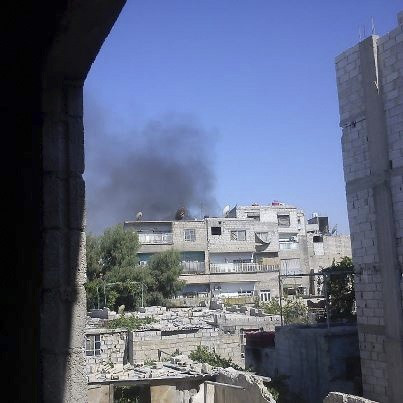 Syria's state-run news agency has accused Qatar of manufacturing models of Syrian cities, in order to create fake videos and mislead public opinion about what is happening in the country.
Sana, the agency loyal to president Assad's regime, reports that a security company in Qatar has started making facsimiles of official buildings and squares in Damascus, Aleppo and Latakia.
"The company started gathering people to make them wear special customs [sic] to represent military personnel and photographers, as if from the Syrian TV channels. [They also] prepared public, private and military cars with fake Syrian registration plates to film fake videos and fabricated photos about the situation in Syria," Sana quoted an unnamed source as saying.
Syrian state television also warned that rebels disguised as military staff are planning to attack people in the capital.
"Armed men in [the neighbourhoods] Tadamon, al-Midan, Qaa and Nahr Aisha are wearing military uniforms with the insignia of the Republican Guard," the correspondent said.
The report comes as opposition sources and western diplomats claim Syrian president Bashar al-Assad is in the coastal city of Latakia, coordinating reprisals to the assassination of three of his top aides.
"The information on Assad's possible flee to Latakia was passed through a high profile official's office," tweeted activist Alexander Page.
The whereabouts of Assad's wife Asma are also uncertain, although Russia's foreign minister Sergei Lavrov was quick to dismiss rumours that she has fled to Moscow.
An aide to president Vladimir Putin also denied that Russia had offered to provide a safe heaven to members of the embattled regime.
Battles are still raging in the capital Damascus after the sensational blast in the government's security headquarters that killed three high-ranking figures of Assad's inner circle.
Defence minister Daoud Rajiha, Assad's brother-in-law Assef Shawkat, head of the military crisis unit Hassan Turkmani and Hafez Makhlouf, head of investigations at the Syrian Intelligence Agency, were killed when a suicide bomber, believed to be a member of the inner circle's personal bodyguard, blew himself up in the National Security headquarters in Damascus.