Syria: First Photo of Cannibal Commander Abu Sakkar who 'Ate Soldier's Heart' [GRAPHIC IMAGE]
Video depicting Farouq Brigade leader cutting heart out of Assad soldier's body posted online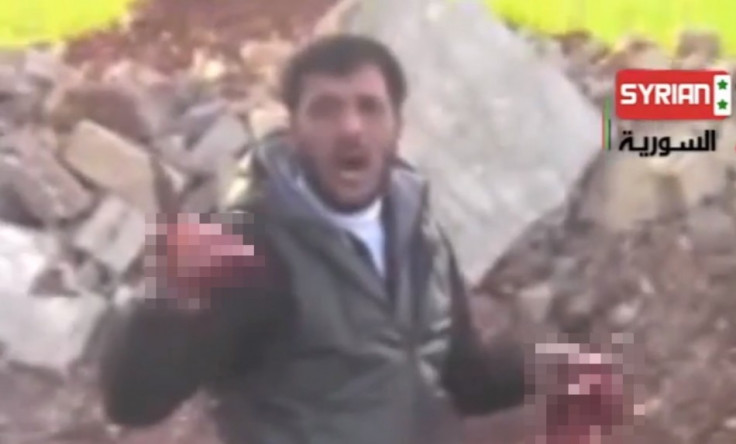 Syrian rebel groups have distanced themselves from the gruesome act of a rebel commander depicted in a video cutting the heart out of a soldier's body and biting into it.
According to Peter Bouckaert of the New York-based human rights watchdog, the man is Abu Sakkar, a founder of the rebel Farouq Brigade.
The main opposition group condemned Sakkar's alleged act as "horrific and inhumane".
"International news agencies and social media websites have been circulating a video clip in which a person claiming to be a member of the rebels in Homs performs a horrific and inhumane act," the National Coalition said.
"The Syrian Coalition strongly condemns this act - if it is revealed to be true. The coalition stresses that such an act contradicts the morals of the Syrian people, as well as the values and principles of the Free Syrian Army [FSA]."
In the footage, posted online by a pro-Syrian regime group, a man wearing military gear is seen knife in hand slicing parts of a dead soldier's torso before turning to the camera and putting the heart in his mouth.
"I swear we will eat from your hearts and livers, you dogs of Bashar," the Sakkar says in the video, referring to supporters of President Bashar al-Assad. "Allahu akbar [God is great]," comes an offscreen reply.
The video is a powerful propaganda tool for the regime that always describes rebels as terrorists.
Sakkar's identity was confirmed by rebel sources in the city of Homs and by images of him in other videos.
One hundred kilometres (60 miles) north of Damascus and close to the Lebanese border, Homs has been the scene of some of the bloodiest fighting in the two-year civil war.
A spokesman from a rebel group operating in the Homs neighbourhood of Baba Amr told CNN the video was taken more than two weeks ago after a bloody battle in western Homs.
"This was an isolated incident. [His] actions do not represent the FSA. His actions only represent himself," Tariq al Sayed said, adding that he knew the man in the footage. "This is not just a normal person who sits home. He has had two brothers killed. His mum and dad were detained and the rest of his family displaced."
"It is not enough for Syria's opposition to condemn such behaviour or blame it on violence by the government," said Nadim Houry, Middle East deputy director at Human Rights Watch. "The opposition forces need to act firmly to stop such abuses."
More than 70,000 people have died in the conflict, according to the UN. The authenticity of the video cannot be independently confirmed.
© Copyright IBTimes 2023. All rights reserved.