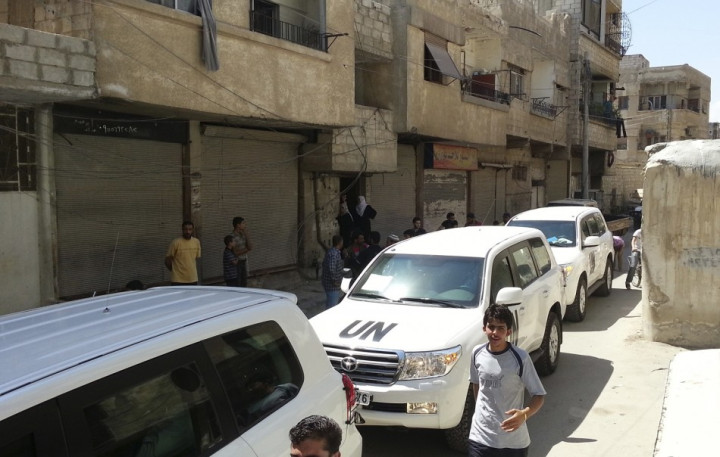 UN inspectors have resumed their investigation into a poisonous gas attack that killed hundreds in the outskirts of Damascus, as US and Britain discussed plans to take military action against the regime.
The team led by Swedish expert Ake Sellstrom, left its hotel in the Syrian capital in a convoy of cars to carry out a second field trip initially scheduled for yesterday but was delayed for security reasons.
Earlier this week the UN convoy was shot at by a sniper. Syrian foreign minister Walid al-Moallem denied the shooter was a regime-sponsored sniper and said Tuesday's trip was delayed because safety could not be guaranteed, due to disputes between rebel factions.
The UN also said the inspection team might stay longer than the initially scheduled two weeks. They are gathering evidence, interviewing witnesses and collecting samples to be analysed in order to assess whether chemical weapons were used, not which party to the conflict used them.
Activists say more than 1,000 people were killed in the 21 August attack in the Damascus suburb of Ghouta. Doctors Without Borders put the death toll at 355.
Opposition rebels and the government have continued to blame each other for the massacre.
Meanwhile the US has said it would release its own intelligence report about the atrocity. Vice-President Joe Biden said there was no doubt the attack was launched by the Syrian regime and President Bashar al-Assad must be held accountable.
Defence Secretary Chuck Hagel said the military was ready to launch strikes should President Barack Obama order an attack.
Obama and British prime minister David Cameron have discussed plans for a deterrent action on the phone overnight.
READ:
Syria Ghouta Gas Attack: Obama 'Not Seeking Regime Change'
Syria Ghouta Gas Attack: West is Monkey with a Grenade, Says Russia [VIDEO]
Syria: US Intervention Fears Spur Oil Price Spike as John Kerry Warns of Chemical Attack 'Consequences'
Syria: US Asks Greece for Military Base Access
Ghouta Syria Gas Attack: David Cameron Recalls Parliament on Twitter
Syria Opposition Calls Off Geneva Peace Talks as Russia Warns US Over Strike
Medecins Sans Frontieres Confirms Syria Chemical Deaths