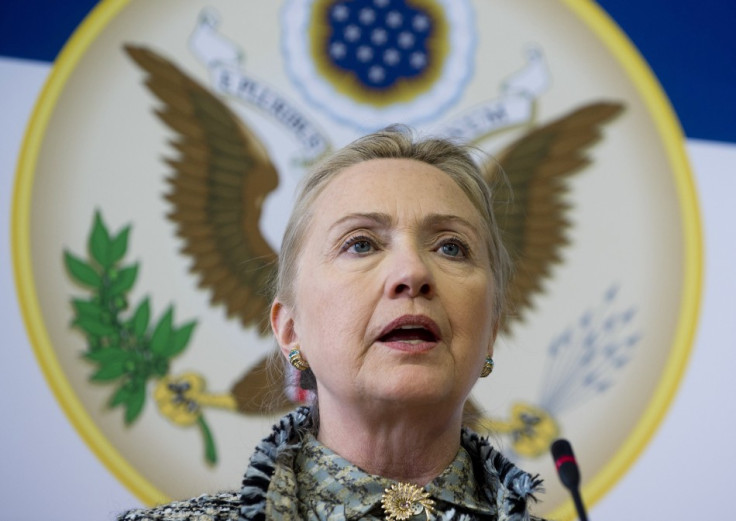 US Secretary of State Hillary Clinton condemned Russia over the Syrian bloodshed saying the country is failing to act against the Syrian government.
The obstinacy shown by Moscow by not supporting calls for international action against the Syrian regime may lead to a civil war which could spread across the Middle East, Clinton warned.
Clinton told students in Denmark: "The Russians keep telling us they want to do everything they can to avoid a civil war because they believe that the violence would be catastrophic."
She also rejected Russia's claims that it was a stabilising influence over Syria.
"I reject that. They are, in effect, propping up the regime at a time when we should be working on a political transition," said Clinton.
However, she conceded that Russia has a greater chance in persuading Syria to stop the violence than the US which is why other nations are pushing Moscow to do its contribution.
Russia and China both vetoed two Security Council resolutions which had called for tougher actions against President Assad's regime.
Clinton's comment came ahead of the Russian President Vladimir Putin's meeting with leaders of Germany and France. The UN Human Rights Council is about to discuss the Syria crisis in Geneva.
The circumstances could as well lead to the military intervention as the US had long been hinting at over-ruling the UN over the Syrian bloodshed.
Russia is one of the key allies of Syria. A day after the recent Houla massacre which killed nearly 108 civilians including 49 children, a Russian cargo ship carrying weapons was reportedly docked in Syria.
Washington strongly condemned the docking of the ship although they admitted it did not violate any law.
"With respect to the reported docking of a ship carrying Russian arms, this is obviously of the utmost concern. It is not technically obviously a violation of international law but it's reprehensible that arms would continue to flow to a regime that is using such horrific and disproportionate force against its own people," ITV news reported the US Ambassador Susan Rice as saying.