The pro-Assad Syrian Electronic Army (SEA) has hacked the GlobalPost website and Twitter account following revelations about its members' identities.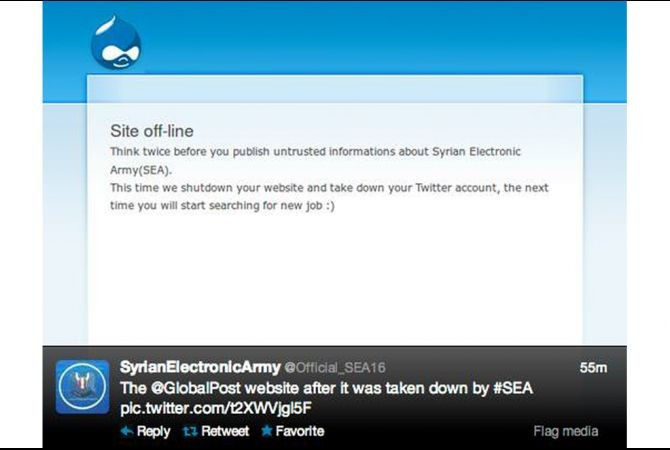 The GlobalPost, an online US news organisation, has detailed the attack in a post on its own website, saying that at no time did it lose control over content published on its site, though it did see its Twitter account taken over by the renowned hacker group.
While the SEA didn't get access to the content published on the site, it was able to post the image you see above, with the message: "Think twice before you publish untrusted informations about Syrian Electronic Army. This time shutdown your website and take down your Twitter account, the next time you will start searching for new job."
While the GlobalPost now says it is back in control of its Twitter account, the person or persons claiming to be from the SEA posted a series of tweets using the account, including on saying: "Think twice before you publish untrusted info about SEA via @Official_SEA16."
Read more: Assad's Anonymous Cyber-Force: Who is the syrian Electronic Army?
The SEA targeted the GlobalPost following the publication of an article in early September which mentions the names of several individuals who were identified by a number of other media outlets and journalists as members of the SEA.
The GlobalPost article focused on an apparent cyber-war which was being waged by Anonymous against the SEA in which a hacker from Anonymous claims to have stolen details from a server used by the SEA and posted information online about the identities of some SEA members.
The attack is just the latest in a string of attack by the group which began as far back as 2011 but only came to prominence in 2013 with a series of high-profile attacks on media outlets such as Sky News, the Financial Times, the Guardian, the BBC and culminating with a hack of the AP Twitter feed which saw $140 billion wiped off the S&P 500 index for a brief period.
While people claiming to be part of the SEA have denied any links to the Assad regime in interviews they have given, the consensus is that these cyber warriors have been given some support by Assad most likely financial support.