Launching a counter-offensive against Syrian government forces in Aleppo, a coalition group of Islamist rebels stormed an artillery base in the city on Friday (5 August) and was reported to have taken over half the base. However, the Syrian army claimed it foiled the attack and killed many insurgents.
The attacked army base is located at a distance of about 1.6km (one mile) from the rebel-held areas of the northern city. Around 250,000 people in the Syrian city continue to live under siege in rebel-held areas after government forces took control over most parts of the city in early July and cut off connections to rebel districts.
The coalition of Syrian rebels that attacked the base is called Jaish al Fateh that includes Islamist militant groups Jabhat Fateh al Sham — the former al Qaeda-affiliated Nusra Front, Ahrar al Sham and other smaller groups. The group claimed to have taken the main artillery academy in the Ramousah quarter in southwestern Aleppo in the Friday attack. They were also believed to be fighting to take control over the other military academies adjoining the artillery base.
"There are two suicide bombers who have driven into regime posts inside the artillery base," Abu al-Walid, a fighter with Ahrar al Sham, who said there was fighting inside the base, was quoted by Reuters as saying.
The rebel groups are in an attempt to break the government siege in the area and to reestablish connection between an encircled area in the east with insurgent territory in the west of Syria. If the rebels succeed in gaining control over this strip, it would reportedly cut off western Aleppo, which is under government control.
While the rebel coalition claimed that they have gained control over part of the army base, the Syrian army said it foiled the attack on the base and two major military academies in the neighbourhood. Terming it as the biggest attacks by rebels on government-held areas in the past few years, the army added that they killed hundreds of insurgents and destroyed much of their armoured vehicles and tanks during the Friday attack.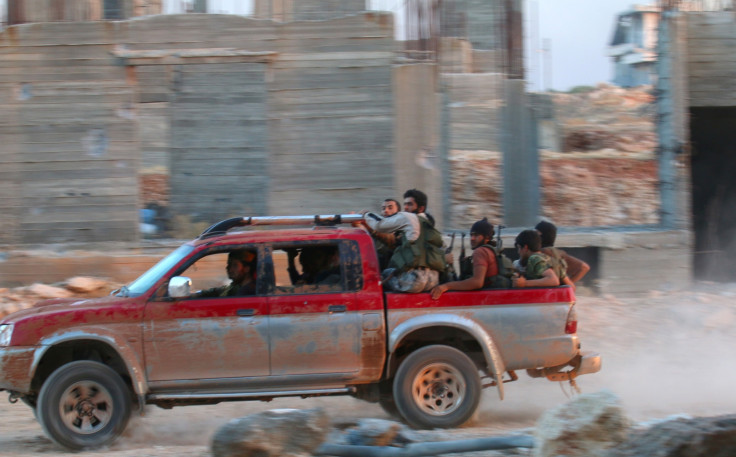 "Today there was a large scale attack by the terrorist armed groups and they used all types of weapons but we are fighting this attack and will defeat them," Brigadier General Deeb Bazi, the head of one of the military academies targeted, reportedly said.
An army statement stated that their forces have succeeded in containing the rebel attack with help of allied forces and that they have destroyed three explosive laden suicide vehicles. Reinforcement forces from pro-government militias were also heading towards the attack site to shore up army positions, the statement added.
Earlier, the army had said that they have killed at least a thousand insurgents so far since attacks began earlier this week.