Syrian government troops and its allies pushed into rebel-held eastern parts of Aleppo city late on Tuesday evening (6 December), according to a monitoring group, and are inching closer to a bigger victory in the conflict. The latest offensive in the five-year-old war was aimed at driving out the rebels from their urban stronghold.
President Bashar al-Assad's men have already recaptured key territories from the rebels and are now reported to be in control of more than 70% of the areas in east Aleppo, London-based Syrian Observatory for Human Rights said.
The monitoring group confirmed that the Syrian army took over an entire district, al-Shaar, on Tuesday. The troops are now said to be targeting parts of Aleppo's Old City, believed to be in rebel hands.
However, a rebel official denied they had entered the Old City. He said the Syrian army and its allies were trying to enter the area and conflicts continued. Reuters reported that a military source too said that Assad's troops were "advancing in that direction".
In another development on Tuesday, rebels reportedly said they would never surrender or abandon Aleppo. It was following reports that US and Russian officials were planning to hold talks in Geneva to discuss possible rebel withdrawal from areas they have held for years, where more than 100,000 people are believed to be trapped.
However, according to BBC, Russian Foreign Minister Sergei Lavrov said the US had called off talks that were scheduled for Wednesday (7 December). "It looks like an attempt to buy time for the rebels, to have a breather, take a pause and replenish their reserves," he said.
US Secretary of State, John Kerry, responded to Russia's accusation and denied delaying discussions. "I'm not aware of any specific refusal," he said on the sidelines of talks with Nato foreign ministers in Brussels.
Reuters reported that rebels told the US officials they would not withdraw and that they had not spoken about this formally with Washington since last week.
"The Americans asked if we wanted to leave or to stay ... we said this is our city, and we will defend it," Zakaris Malahifji, a Turkey-based official for the Fastaqim rebel group, said on Tuesday.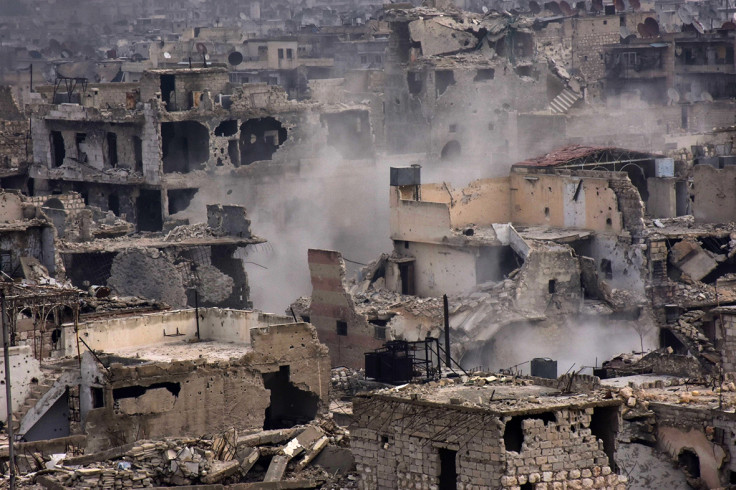 The Cold War-era superpowers have been backing opposite sides in the Syrian conflict. Russia has been a key ally of Assad and has supported his troops by carrying out air strikes against the US-backed rebels since September 2015.
On Monday (5 December), Russia, along with China, vetoed a draft resolution at the UN Security Council that demanded a seven-day truce in Aleppo.
The Middle Eastern country has also been under attack from the Islamic State (Isis) militant group.