Syrian troops enter last Isis stronghold in Homs as fierce clashes reported
Al-Sukhna is the last town on the road to the eastern city of Deir ez-Zor, where President Bashar al-Assad has launched a major anti-Isis campaign.
Amid fierce gunfight, Syrian government troops entered the last Islamic State (Isis) stronghold in Homs province, al-Sukhna, on Friday (28 July) evening.
The Britain-based Syrian Observatory for Human Rights (SOHR) reported that government troops were firing artillery and rockets at Isis positions. It added that the militants were retreating from the city after government forces entered its southwestern part.
"The Isis organisation has carried out successive withdrawals from the town," Rami Abdel Rahman, SOHR's director, said in a statement. He added that the government forces of President Bashar al-Assad "have line-of-fire effective control of the town after the withdrawals".
Rahman further said that the streets across the city were empty and Isis fighters were seen nowhere. However, it was not clear if pockets of Isis men remained.
Al-Sukhna in Homs is located about 70km northeast of the ancient city of Palmyra that was destroyed by the militant group about two years ago. Palmyra was retaken by Assad's forces in March.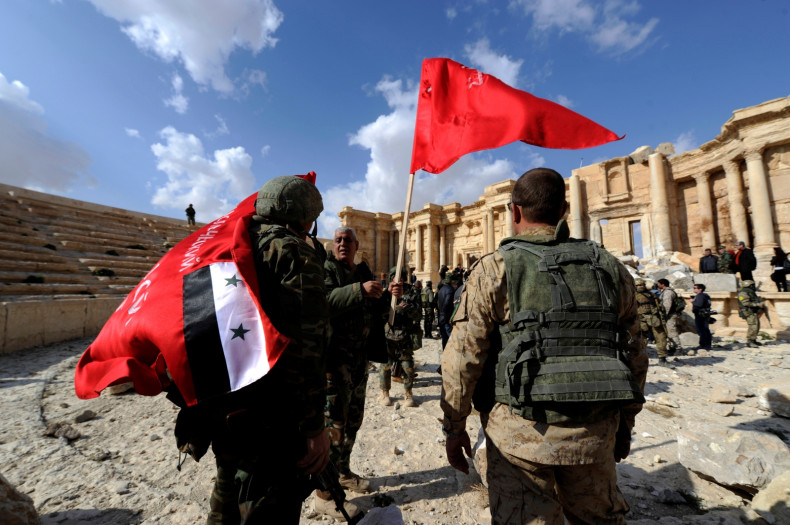 Al-Sukhna is the last town on the road to the eastern city of Deir ez-Zor, which is still under Isis control, but Assad's forces have launched a major offensive since May to take it back. Assad has the backing of Russia in his fight against Isis and rebel forces. He aims to take control of the vast desert that separates Syrian capital Damascus from Deir ez-Zor and other towns along the Euphrates Valley, according to Al Jazeera.
Elsewhere, the Syrian Democratic Forces (SDF) - a rebel group that wants Assad out of power - is advancing into Raqqa - an Isis stronghold in the country. They have the US-led coalition's backing. They are assisting and training the local fighters.
Colonel Ryan Dillon, spokesperson for the coalition, recently said 45% of Raqqa was under the control of the SDF. They had laid siege from both western and eastern parts of the city. Isis defeat in Raqqa will be a major victory in the fight against the global terrorist group that had taken control of large parts of the Middle East, particularly Iraq and Syria, in 2014.
The Iraqi government announced complete liberation of Mosul - Isis's last stronghold in the country - earlier in July after more than a year-long offensive that saw hundreds of Iraqi soldiers and even more number of Isis fighters killed.