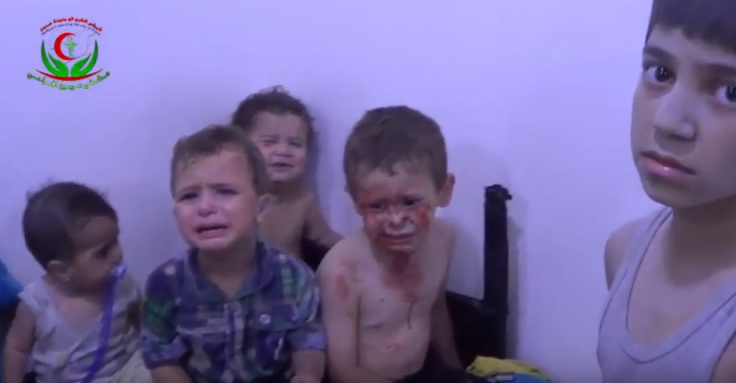 Air strikes violating a temporary truce in Syria have killed at least eight people, the majority of whom were children, activists have reported.
Earlier in July, rebels and Russia – an ally of Syrian president Bashar al-Assad – agreed on a temporary ceasefire in rebel-held Eastern Ghouta, to de-escalate conflict in the area.
On Saturday (22 July), the Syrian army announced a temporary truce in the area, arguing it would "retaliate in a suitable manner to any violation", according to reports.
However, the UK-based Syrian Observatory for Human Rights has reported several truce breaches, "most of them carried out by the regime forces and their allied militiamen", since the ceasefire came into force on Saturday.
At least eight strikes took place in Arbin town, in east Damascus, on 24 July, the group said on its website.
Casualties included five children and two women, the Civil Defence for Rural Damascus said, according to Reuters. Another 30 people were injured.
The civilian casualties were the first to occur since the truce was declared.
Warning: graphic content in video below
Conflict in Syria
Syria descended into war in 2011 , when President Bashar al-Assad deployed government troops to quash anti-government demonstrations in several areas of the country.
Assad refused to step down as violence spread throughout the region. Despite several ceasefires and the intervention of international coalitions, the conflict deepened and fostered the emergence of anti-Assad rebel groups.
The warring sides involved in the conflict are numerous. A US coalition backs some of the militia groups that want to overthrow Assad, including the Free Syrian Army and Syrian Democratic Forces, but not ANF.
On the other side, Russia, Iran and Hezbollah back Assad forces.
The Islamic State (Isis) terror group fights both pro and anti-Assad forces and aims to establish an Islamic caliphate throughout the occupied territories.
The conflict has resulted in the death of hundreds of thousands of people and the displacement of millions.