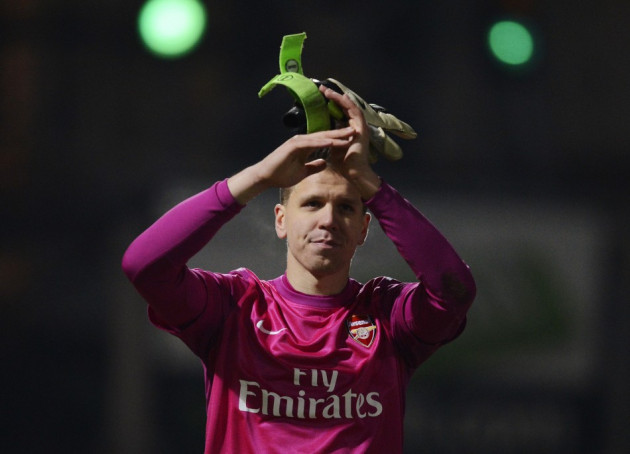 Arsenal goalkeeper Wojciech Szczesny is unconcerned by reports linking the club with a new stopper and expects to be No.1 between the stick next season.
Queens Park Rangers' Julio Cesar has been heavily linked with a move to The Gunners in recent weeks.
Vito Mannone, who made 13 appearances in all competitions last season has joined Sunderland while James Shea was released at the end of the season leaving the club with just three options in goal.
Szczesny's form fluctuated throughout a campaign which began with a spell on the sidelines due to injury but by the end of the season the 23 year old has reasserted himself as the No.1 in time to inspire an unbeaten run at the end of the season which secured Arsenal a Champions League place.
"Even if the boss was to make a big signing in goal, I would do my very best to compete for the No1 spot," Szczesny said.
"I'd do my best for the club whatever my position. The club is in my heart and I wouldn't be thinking about going elsewhere. My head is pretty clear when it comes to that. You have to deal with the competition.
"I think that the competition from Lukasz [Fabianski] when he was fit [last season] was pretty tough and I enjoyed it. It can only bring the best out of me.
"My confidence never gets crushed. Whatever happens, my attitude doesn't change. I still try my very best in training.
"I want to make sure I'm in the best shape possible. Whether someone comes in, it's not my decision and it won't affect me in any way.
"There is the same talk every year and no one has been brought in. I think the manager has shown enough faith in me to make me feel confident in my own abilities. So it doesn't affect me at all."
The main focus of Arsenal's transfer activity has surrounded adding a forward to their artillery ahead of the new campaign.
However, with long-term target Stevan Jovetic having joined Manchester City, Gonzalo Higuain close to agreeing a deal to join Napoli and Chelsea stealing a march in the pursuit of Manchester United forward Wayne Rooney, Arsenal are struggling to make head-way.
But Szczesny is unconcerned with reports of Arsenal missing out on players, making it a refreshing change from previous summers.
"You try not to think about those sagas with Cesc [Fábregas] and Robin [van Persie] but it's always in the back of your head that you've lost one of your top players, whereas this season the only thing that everyone is talking about is 'Who is Arsenal going to bring in?'" Szczesny added.
"It's not 'Who is Arsenal going to lose?' It makes us feel stronger and more united as a team because we know that everyone is focused on doing the same thing, which is staying here and doing our best."