A 12-year-old boy has been captured accidentally punching a hole through a 17th century Paolo Porpora oil painting valued at nearly £1m ($1.5m). The Taiwanese boy can be seen losing his balance and falling into the painting entitled Flowers at the Face of Leonardo, Images of a Genius exhibition at Huashan 1914 Creative Park in Taipei.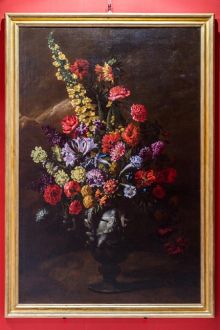 The boy then looks round rather sheepishly, holding a drink in one hand, before moving away from the painting. The boy is said to have left a fist shape hole in the painting as a result of his stumble.
Luckily, reported Focus Taiwan News, the organisers of the exhibit said they will not ask the boy's family to pay the cost of restoring the painting. Sun Chi-hsuan, the head of exhibition co-organiser TST Art of Discovery Co, will reportedly ask the insurance company to cover the cost of the damage.
The exhibition featuring the Porpora painting is also displaying more than 50 pieces of works by artists from the Italian Renaissance, including Leanardo. "All 55 paintings in the venue are authentic pieces and they are very rare and precious. Once these works are damaged, they are permanently damaged...we hope that everyone can protect these precious artworks with us." TST Art of Discovery said in a post on the exhibition's official Facebook page.
The incident is believed to be the first time that a valuable painting has been damaged while on loan in Taiwan. The exhibition was temporarily closed soon after the boy punched the painting, but reopened later in the afternoon.