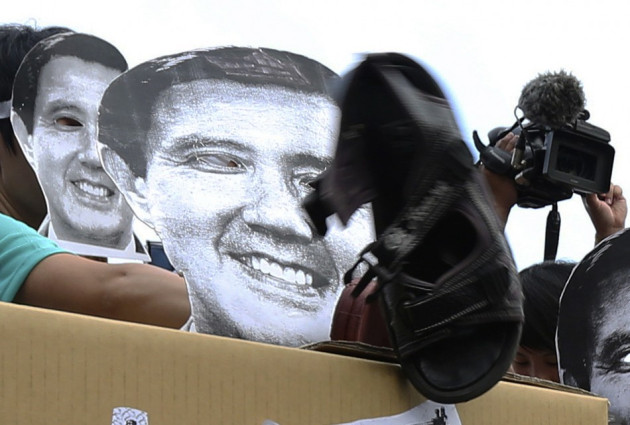 Taiwan is worried that the decades-long standoff with the mainland could come to a disastrous end as it believes China could potentially complete a successful invasion of the island in as little as seven years' time.
Taiwan's defence administration has said China's military power aimed at it could become formidable by 2020 and it is likely that China could launch an all-out attack to annex Taipei, which it sees as a renegade state.
Taiwan's Ministry of National Defense has cited in a report several ways in which China would likely enhance its military might aimed at Taiwan, Reuters has reported. These measures include sharpening the ability to coordinate a landing on Taiwan and deploying anti-aircraft missiles in the Taiwan Strait.
"In the future, the Chinese military will continue focusing on further integration of its military units, with the expectation that it will be able to resist foreign forces' intervention in any attack on Taiwan," the ministry's annual defence report said.
Taipei, which is recognised by only about two dozen countries the world over, said China's military strength will soon allow it to surpass a possible US defence of the island nation in case of an attack.
"Over the long-term, it will be wholly sufficient to engage in a war over Taiwan by 2020."
Taiwan did not mention the US intervention in the report, but Washington has an agreement with Taipei to fight on its side in case it is attacked.
The Chinese nationalists, defeated by the communists in the civil war, retreated to the island in 1949, and the two countries have been separately ruled ever since, though Beijing had always wanted to have a unified communist nation. Significantly, China has never ruled out annexing Taiwan through military means under its One China policy, even as it developed economic ties with the island nation in recent years.
China did not officially respond to the latest development from Taipei, Reuters said. However, Chinese President Xi Jinping said earlier this week the political standoff could not be postponed forever.
"Increasing mutual political trust across the Taiwan Straits and jointly building up political foundations are crucial for ensuring the peaceful development of relations," Xi said in Bali ahead of the Asia Pacific Economic Cooperation (APEC) summit.
However, Taiwanese have always fretted about China's plans as the Communist Party leadership has always seen Taiwan as a threat due to Taipei's close ties with the US and the substantial military hardware the island nation has been getting from Washington.
Though the hatchet was never buried, China and Taiwan have gone on to establish far-reaching economic ties, a factor many analysts see as a deterrent to a future Chinese attack.
At the same time, the diplomatic alienation of Taiwan has been taking place at a fast pace, with only a handful of countries now retaining relations with it. China has successively used its financial might to win over allegiance among several Asian and African governments in the past, leaving Taiwan with only 23 allies, most of which are tiny countries. And more are eager to dump Taiwan and join hands with China.
Costa Rica was the last country to sever ties with Taiwan in 2007 and recognise Beijing. China has not accepted requests from other countries to turn over to its fold since then.
Analysts say this is in line with China's long-term political design for Taiwan. China's relationship with Taiwan improved after China-friendly Ma Ying-jeou was elected president in 2008, and Beijing wants to cultivate a more accommodative stance among Taiwanese people over the years before it executes a diplomatic coup, analysts have said.
Zhang Zhexin, a Taiwan policy researcher at the Shanghai Institute for International Studies, told Reuters that China may have rebuffed at least five countries' requests to switch diplomatic recognition to Beijing in recent years.
"If it weren't for the desire to support Ma, we would have let them switch already. But now we are not as much in a rush as before," he said.