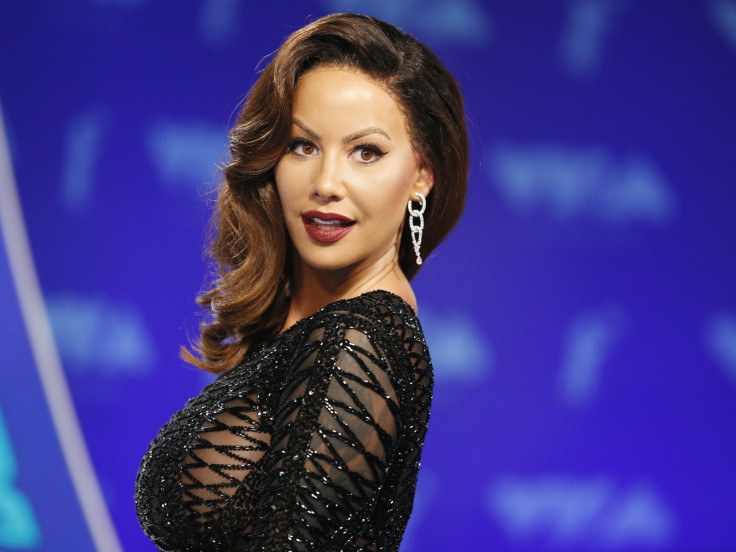 Amber Rose ditched her signature platinum shaved hairstyle for the 2017's MTV Video Music Awards. The model turned up at the VMAs looking nearly unrecognisable in a long brunette wig and sheer black dress.
The 33-year-old looked gorgeous in a brown wig, styled with soft curls at the 27 August event held at The Forum in Inglewood, California. She wore a black, sparkling floor-length gown, which had strategically-placed geometric patterns and sheer panels that showed off plenty of skin.
The Dancing With the Stars star accessorised her look with diamond link earrings. Rose showed up at the event with boyfriend 21 Savage and packed on the PDA while posing for photos. The 24-year-old rapper looked sharp in a white suit, round sunglasses and diamond studs.
Rose shared several photos of her VMAs appearance with her 15.9m followers on Instagram but her followers clearly appeared to be unimpressed going by the comments her posts received. Beneath one of the pictures, a user commented, "I hate that wig just do straight with part down the middle," and another commented, "Take this damn wig off."
Most fans expressed their shock over her new hairdo. A user asked, "Is that's you? your wigs gonna fall sis" while another commented, "Oh snap that Amber I didn't even know that eww change that hairstyle."
Criticising her fashion sense one user wrote, "You looked better without the hair honestly. Now you lowkey look like chucky's bride." A confused user asked, "Wait.....how old is this pic???is that Amber with hair.....tf going on."
"Bruh I thought that was someone else she really do change when she got long hair," noted one user.
Some users, however, did come out in support of her new look. "Out of all her wigs this the best one," one said, while another comment read, "Damn Amber look good with long hair and short hair."
It looks like Rose — who was previously married to Wiz Khalifa — has completely fallen for 21 Savage. She wrote in an Instagram post in July, "It's pretty amazing waking up every morning feeling love like this. I've cried endlessly and been hurt a lot in my life, I've been abused, talked to like I wasn't s--t, been gaslighted and slut shamed by men that I once loved and cared about."