Nothing Amber Rose does stays quiet as she has proven one more time with her latest Instagram post in which she wished a happy birthday to Madonna who turned 59 on 16 August. The image she shared for the event has irked many on social media who found it sexually provocative.
"Happy Birthday to this Feminist icon, Philanthropist, Trendsetter, Musical Maven and Mother @madonna after all of these years you continue to push boundaries and deal with scrutiny with an IDGAF attitude and you've inspired me to do the same. Thank you for being you and letting us women know we can be mothers, daughters, smart as hell and reach for the stars all while being confident in our sexuality," the 33-year-old model wrote on the image sharing website.
This isn't the first time that the picture has caused a stir, as it is taken from from Madonna's 1992 coffee table book titled Sex, in which Madonna set out to demystify sexuality and combat taboo, much to the dismay of conservatives and anti-porn feminists.
The image depicts Madonna standing over a water fountain while another model drinks from its spout. The pair, dressed in BDSM-style outfits, appear to be alluding to the sadomasochistic sexual act known as a golden shower, where one partner urinates on the other.
25 years later, the image has proven just as provocative as fans ignored the heartfelt birthday message and slammed the image as "nasty" and "disgusting".
"Thought she was peeing in her mouth for a second," one fan commented. "Is a girl drinking Madonna's pee," speculated another.
A diehard fan of Madonna jumped in to clarify the golden shower confusion. "Y'all she not drinking pee. Madonna is standing over a water fountain and the lady is drinking it! Damn y'all act dumb," the Instagram user explained.
Rose is a self-proclaimed feminist but on multiple occasions she has received backlash for baring her body in the name of feminism. Many of her followers advised her to motivate young women in a "positive way".
"How is this symbolic for feminism?" one asked.
"Come on Amber Rose grow up you are a mother do something positive in your life," another commented.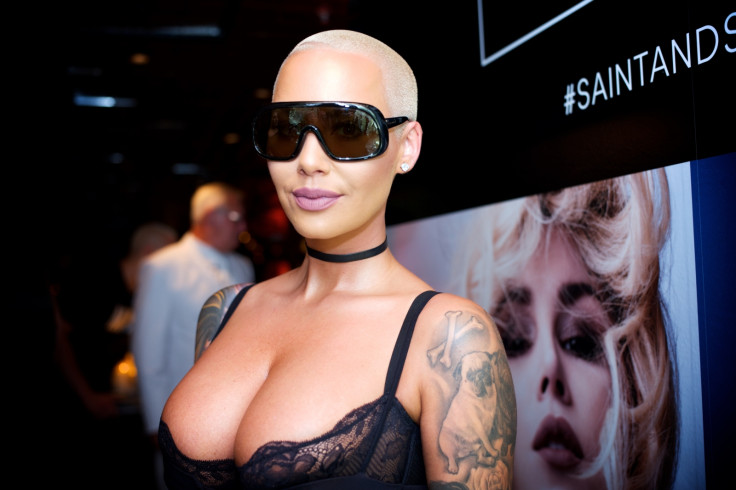 "Being a Dominatrix/Nymphomaniac does not & I repeat does not Represent being a Feminist," added another.
Note: This article has been updated to correctly reflect the contents of the image posted by Amber Rose.