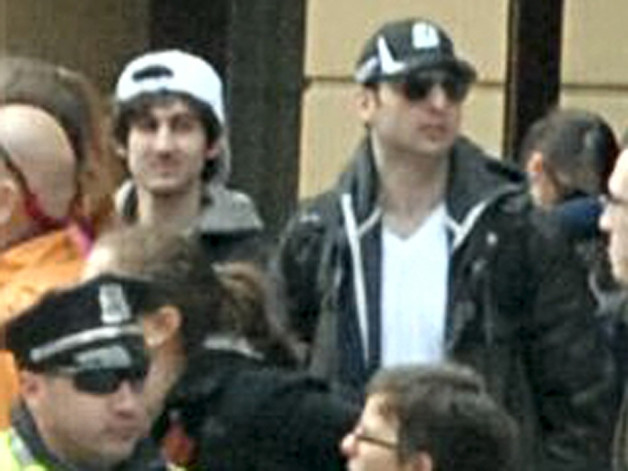 The family of the wife of suspected Boston marathon bomber Tamerlan Tsarnaev, who was killed in a shoot-out with police, has issued a statement saying their "hearts are sickened by the knowledge of the horror he has inflicted".
Tamerlan, 26, who was shot dead in a gun battle with officers on Thursday 18 April, was married to Katherine Russell, 24, and had a three-year-old daughter, Zahara.
"Our daughter has lost her husband today, the father of her child," said Katherine's mother, reading out the statement from the porch of the family home in Rhode Island.
"We cannot begin to comprehend how this horrible tragedy occurred. In the aftermath of the Patriot's Day horror, we know that we never really knew Tamerlan Tsarnaev.
"Our hearts are sickened by the knowledge of the horror he has inflicted."
FBI and police raided the house in the early hours of Friday and Katherine was taken away by officers. She was driven back to the family home at 5pm flanked by SUVs from the Department of Homeland Security.
Neighbours revealed that Tamerlan had been a regular visitor to the house, and after meeting him Katherine had converted to Islam and started wearing a headscarf.
One told the Daily Mail: "I knew Katherine was married and she had converted to Islam.
"She went away to college about three or four years ago and I saw her a year later and she was dressed in the Islamic style. Her hair was covered and she was wearing very baggy, flowy clothing.
"I saw Katherine with a man and I assumed this was her partner. They came up most weekends and had Massachusetts licence plates on their car, so I thought they lived in Boston and came home at the weekends to see her family.
"They were always together and had a little girl, who must be about three now."
The neighbour said the last time she had seen Tsarnaev at the home was about a year ago: "She moved back home and was living at home with the baby.
"I never saw him again, I thought maybe he's gone away or he's busy with school."
Tsarnaev was granted US citizenship on 11 September 2012. Officials told the AP that he had travelled to Russia for about six months last year.
The neighbour described her shock at waking up yesterday morning to see the Russells' home being raided: "They were there when I woke up early, there was one state patrol car and someone who came out wearing a padded vest with FBI on it.
"With all the activity, I put it together, but I thought this can't be.
"But then I thought, 'Well, she did make this conversion...' I thought Katherine may be friends with one of the brothers, I never thought it was her husband."
Katherine has two sisters, Anna and Becca. Her father, Warren, is a medic and her mother, Judith, a nurse.
She is believed to have met Tamerlan while a student at Suffolk University, Boston.
The website spotcrime.com claims that Tsarnaev was arrested for domestic violence in 2009.
Paula Gillette, 59, a mother-of-one who lives over the road from the Russells, told the Mail: "Before Katherine went to Suffolk she wore normal clothes like jeans, T-shirts and skirts, but when she came back she was wearing a white headscarf.
"I don't think her family are religious.
"I have no idea what she is going to tell her kid. How can you tell them? How can you explain it?
"Who knows if she knew anything about what he was doing? We just don't know.
"They are a very nice family, with three lovely daughters who are friendly and well-mannered," said Gillette. "And they were so happy to have a granddaughter. This is terrible for them".
She said the family had been supportive when Katherine decided to convert.
Tsarnaev's younger brother, 19-year-old Dzhokhar, was arrested yesterday after hiding wounded in a boat for a day while police scoured the area for him. Witnesses say that in making his escape from the gun battle in which Tamerlan was killed he drove over his brother's body.
Both were captured on CCTV in the marathon area during and in the wake of the explosions.
Tamerlan once dreamt of representing the USA as a professional boxer. His aunt told reporters in Toronto that he had recently become a more devout Muslim, and started praying five times a day.
"He has a wife in Boston and from a Christian family, so you can't tie it to religion," she said. "At that age all they want is love, so he found his love, he married, he had a daughter, and he was very happy about his daughter."
However, she conceded Tamerlan "seemingly did not find himself yet in America, because it's not easy".
A YouTube playlist created by Tsarnaev contained videos of speeches by jihadist preachers.
Three people were killed in the bombings on Monday 15 April and 176 injured.