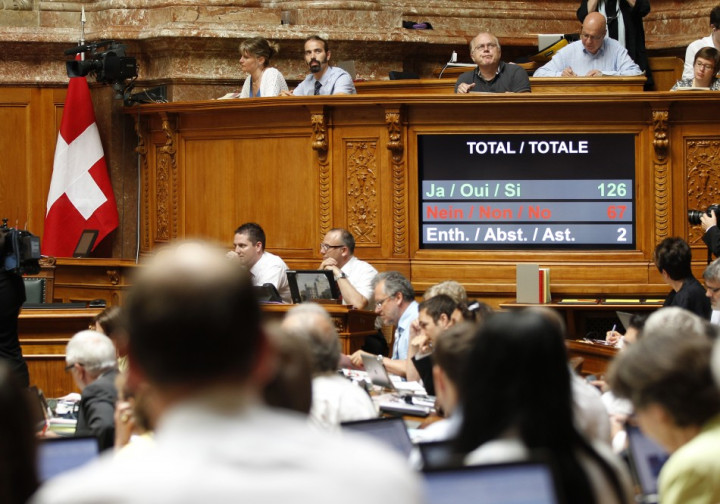 Swiss parliament took a surprise step in refusing to address a draft bill that is aimed at protecting the country's banks from US criminal charges and from being effectively shutdown.
Only one day after Switzerland's finance minister Eveline Widmer-Schlumpf met the European Commission's tax chief Algirdas Semeta to discuss creating more transparency over bank's tax activities, Switzerland's lower house of parliament stalled a bid to protect the country's banks from US criminal charges over tax evasion.
The lower house voted by majority to not discuss the draft bill, which therefore gives the government less time to push through the Swiss-US tax deal, before the end of the parliament summer session on Friday.
It was tipped to end a long-running probe into rich Americans using Swiss accounts to evade tax.
If Swiss' lower house still refuses to address the bill again later in the week, analysts say 'the bill would die', raising the concern that the US could indict and therefore shutdown Swiss banks.
Widmer-Schlumpf told parliament "there is a very real danger of an escalation. Criminal charges are planned."
The bill, or US tax deal, is aimed at allowing banks to disclose data to US prosecutors to help them strike deals and fines under a settlement.
However, if the bill is not pushed through Swiss banks would be open to indictment, which is seen as a death knell for virtually any business.
Swiss private bank Wegelin & Co was shutdown after pleading guilty to helping wealthy Americans evade taxes through secret accounts and paid a $58m fine.
Other Swiss banks have already paid hefty penalties for helping client evade tax.
In 2009, UBS admitted to aiding tax evasion and paid a $780m penalty after the bank handed over data on 250 accounts held by US citizens and later disclosed information on another 4,450.
US authorities have dozens of other banks under formal investigation.
Switzerland is infamous for stringent bank secrecy laws and has become the world's largest offshore financial centre with $2tn (€1.5tn, £1.3tn) in assets under management.
The US tax bill is estimated to cost the industry as much as $10bn.