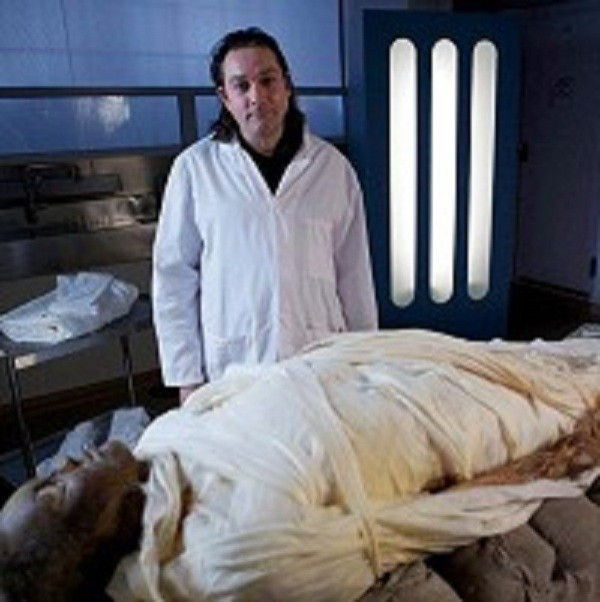 A taxi driver from Torquay has become the first person fro 3,000 years to be mummified in the same way as the pharaohs.
Alan Billis, who was diagnosed with terminal lung cancer, applied to take part in Channel 4's controversial documentary where viewers will be able to watch Mr Bullis turn into a mummy over the space of a few months.
When he died in January, he became the first person to be mummified for 3,000, thanks to a scientist who has spent two decades trying to replicate the techniques which the ancient Egyptians used on Tutankhamun.
The 61-year-old, who had dubbed himself Tutan-Alan, from Torquay, had the backing of his wife Jan.
"I'm the only woman in the country who's got a mummy for a husband," she said.
The process of Bullis' body being mummified is to be revealed in a documentary called Mummifying Alan: Egypt's Last Secret to be screened on Monday October 24.
In the documentary, Dr Stephen Buckely, a chemist and research fellow from York University works alongside archaeologist Do Jo Fletcher in analysing body tissues samples before putting his findings into practive on the body of Mr Bullis at the Medical-Legal Centre in Sheffield.
"It's turned current understanding, including my own, completely on its head," said Dr Buckley.
"People have been leaving their bodies to science for years and if people don't volunteer for anything nothing gets found out," Bullis told the documentary team.
"Experimenting is all about trying different processes to make things work. If it doesn't work it's not the end of the world, is it? Don't make any difference to me, I'm not going to feel it."
But the taxi driver said he had just one regret about the process: "Shame I'm not going to be around to see it, isn't it? I'd like to have seen that because I like documentaries."