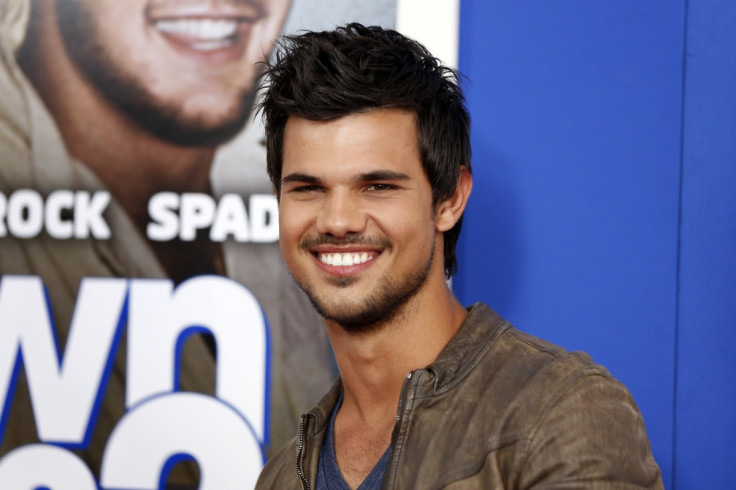 Taylor Lautner made his Instagram debut on 17 May with a funny video, which shows The Ridiculous 6 actor pursuing Adam Sandler to make a cameo appearance in his first clip. However, he is unsuccessful, following which he offers ex-flame Taylor Swift's phone number to David Spade to persuade him. Of course, Spade agrees.
The video begins with the 24-year-old actor informing comedy star Sandler that he has joined the popular photo and video sharing app. The actor then goes on to disclose his ideas for the video that he wants to share as his first Instagram post.
"For my first post, I'm going to use this new 60-second video feature. I was thinking maybe I could do a backflip, but in slow-mo," the actor says. Lautner quickly performs a back flip before the 49-year-old actor, who is seated on a couch along with his dog. Sandler says: "I have seen you do that before, may be something else"
The Twilight actor then suggests other ideas for the video and asks Sandler to appear in his video but is turned down. Sandler says: "I would but you know, the dog doesn't want me to and that kind of thing."
After Sandler says he is not interested in appearing in his video, Lautner turns to Spade for help. He asks Spade if he would like to do some "dabbing" for his video. However, Spade also turns him down but Lautner is not one to give up so easily.
"I'll give you Taylor Swift's cellphone number," Lautner says. To which Spade responds: "So it's your right arm." Spade then gets up, probably to perform the dance move. Lautner and Swift dated back in 2009 after meeting on the set of the film Valentine's Day.
Lautner captioned the debut video: "Hello Instagram! It only took me until the year 2016 to finally join, sorry I'm so late to the party haha. Huge thank you to my buds@adamsandler and @davidspade for helping me introduce my page."