Taylor Swift seeks to trademark 'Swiftmas', 'Blank Space' and '1989'
Taylor Swift is building quite a collection of trademarked phrases and words, made popular by her songs. In January, she trademarked a number of phrases from her popular albums.
These incuded "Party Like It's 1989", "This Sick Beat", "Cause We Never Go Out of Style", "Could Show You Incredible Things" and "Nice to Meet You, Where You Been?" from her 2014 album 1989. Now, the Shake it Off singer has filed a trademark application for "Swiftmas", "Blank Space", "And I'll Write Your Name", "A Girl Named Girl" and "1989".
The application was made with the US Patent and Trademark Office on 3 December and if approved, the phrases made popular by the singer cannot be used freely on a range of products from music instruments to home products.
However, the year 1989 will not be off-limits. It is just the number in her album's stylised form that is up for trademark. The singer, who celebrates her 26<sup>th birthday on 13 December, told fans online that she plans a quiet celebration this year. She recently returned from completing the last leg of her 1989 World Tour with a final show in Melbourne on 11 December.
"Melbourne, the first two nights with you have been magical," she posted on Instagram, with a photograph of the stadium where the last concert was held. "Tonight we play this show for the very last time. I'm so honoured I get to share the last night of the 1989 World Tour with all of you. This has been the most incredible adventure. Thank you for all of it."
The Grammy award-winning artist has been on tour since May having performed 85 shows across the globe with guest appearances by the likes of Justin Timberlake, Julia Roberts, Alanis Morisette, Lisa Kudrow and Kobe Bryant.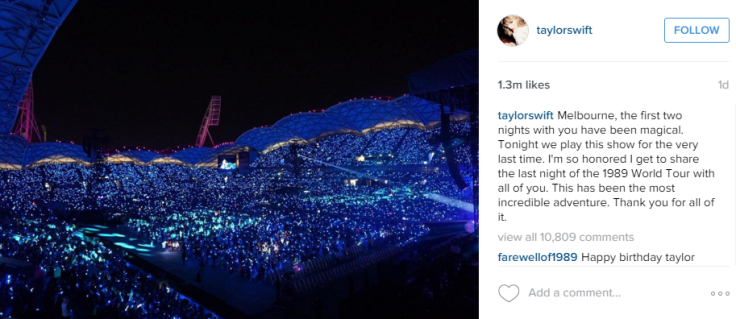 © Copyright IBTimes 2023. All rights reserved.