East London's Tech City will receive a £50m boost, with the funding helping to regenerate the Old Street roundabout.
Key Points:
£50m investment for regeneration project

15 - 20 core staff jobs created

Capacity to train 10,000 students in coding

400-seater auditorium

Digital mesh exterior for advertising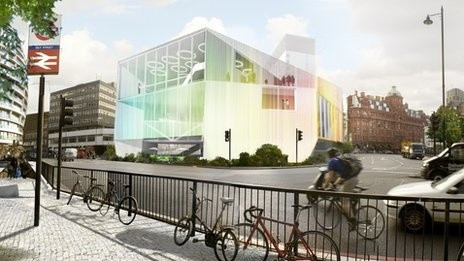 Two years on from launching the Tech City initiative, which is aiming to recreate Silicon Valley in the heart of London, David Cameron has announced a £50 million funding boost for the area.
The money will be spent on regenerating Old Street roundabout - known as Silicon Roundabout - which lies at the heart of Tech City. The roundabout will be almost unrecognisable once the transformation is complete.
As you can see in the image above, a new building will be built which promises to be "Europe's largest indoor civic space" which will house start-ups and entrepreneurs. This building will host classrooms, co-working spaces and workshops equipped with the latest 3D printing technology, for use by start-ups.
Announcing the funding boost in East London, David Cameron said:
"Two years ago I set out my commitment to help Tech City become one of the world's great technology centres. Today we are seeing it continue to grow and go from strength to strength - and that is down to the talented, creative entrepreneurs who have set up there. The UK is in a global race and I am determined that we as a Government continue doing everything we can to equip the UK to compete and thrive in that race."
The new regeneration project is expected to deliver between 15 and 20 jobs for core staff running the centre. It will have capacity to train 10,000 students in coding and enterprise and feature a 400-seat auditorium, boardrooms, labs and workspaces.
The centre will be able to host 500 education sessions for advanced skills development per year and help support the growth of Digital Shoreditch Festival to an audience of 200,000.
Advertising
Old Street roundabout is currently best known for its large advertising hoardings, and the ability to place ads on the roundabout will not be lost, with the entire exterior surface of the new building turning into a digital advertising platform via a digital mesh.
London's mayor Boris Johnson also welcomed the announcement highlighted the commitment of some major technology firms to the area:
"The time is right to lay solid foundations in Tech City for London's digital revolution, and this list of major new firms committing to the area is a testament to the confidence leading tech entrepreneurs have in the capital."
The companies Johnson was speaking about include the likes of Microsoft, IBM, KPMG and Cisco who all made announcements regarding new developments in the Tech City area.
Microsoft
The most interesting is Microsoft's announcement that it is establishing a Technology Development Centre in the area, which will support local technology development and "work to inspire innovation and provide expertise and guidance to those with new and innovative ideas."
Joanna Shields, the incoming CEO of Tech City Investment Organisation (TCIO) said this could pave the way for Tech City to become a big player globally:
"We have the opportunity to take this momentum and make Tech City the global leader in tech innovation and the location of choice for start-ups and growth businesses."