When he began his first term in the US Senate just over three-years ago, few outside his home state of Texas had heard of Ted Cruz. But now he has emerged as the frontrunner to take on Donald Trump for the Republican presidential nomination in the US.
A meteoric rise has seen the 45-year-old topple Jeb Bush, whose family's political dynasty has seen his father George Bush and brother George W Bush lead the US, as well as more experienced candidates such as Arkansas governor and 2008 presidential hopeful Mike Huckabee.
Now the conservative firebrand, who cites Ronald Reagan and Margaret Thatcher as his political heroes, has Trump in his sights as he looks to secure the backing of his party, some of whom he has been unafraid to upset during his short time in office.
Rafael Edward Cruz, Ted for short, positions on most issues nonetheless delight the base of his party. He denies the existence of man-made climate change, rejects equal marriage rights and is opposed to immigration reform.
But his overriding message has been that he will undo everything Barack Obama has done, including the repeal of "every blessed word of Obamacare" or the Patient Protection and Affordable Care Act.
Hate for healthcare
Despised by the Republicans, the law requires all Americans to have health insurance, but offers subsidies to make coverage more affordable and aims to reduce the cost of insurance by bringing younger, healthier people into the health insurance system.
Through creating marketplaces for buying medical insurance – with websites akin to online travel and shopping sites – individuals can compare prices as they shop for coverage.
The act also bans insurance companies from denying health coverage to people with pre-existing health conditions, allows young people to remain on their parents' plans until age 26, and expands eligibility for the government-run Medicaid health programme for the poor.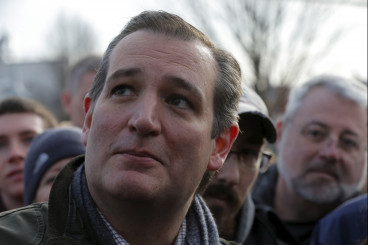 Republicans say it imposes too many costs on business and they have also decried it as an unwarranted intrusion into the affairs of private businesses and individuals.
After it was passed in 2010, they launched a legal challenge, which ended in June 2012 when the US Supreme Court declared the law was constitutional.
It was Cruz's strident opposition to Obamacare that led to him first achieving national notice in September 2013.
Staging a 21-hour speech on the Senate floor against it, at one point he read Dr Seuss's "Green Eggs and Ham as a bedtime story to his young daughters who were reportedly watching at home.
It was central part in the lead up to the 16 day partial government shutdown after the two parties failed to agree a new budget with the Republican-led House of Representatives insisting on delaying Obamacare as a condition for passing it.
Senior Republicans including former presidential candidate John McCain, later criticised Cruz for his behaviour.
"We needed 67 votes in the Senate to stop Obamacare, and we didn't have it," he told the New Yorker magazine in 2014. "It was a fool's errand, and it hurt the Republican Party and it hurt my state."
During his 21-hour marathon Cruz also compared the "oppression" of Obamacare to that experienced by his father Rafael, as young man in Cuba "where he had been imprisoned and tortured as a kid".
Son of a Cuban
After fleeing Cuba for Texas in 1957, the senior Cruz aligned himself with a movement opposed to the country's leader Fulgencio Batista, but after briefly returning to his homeland two years later he became convinced that Fidel Castro was even worse and opted to stay in the US.
There he majored in mathematics at the University of Texas and met and married Eleanor Darragh. The pair moved to Calgary in Canada, where they started an oil services company and Rafael Edward Cruz was born in 1970.
This had led to repeated questions from rival Donald Trump about Cruz's presidential eligibility and an attorney in Cruz's hometown of Houston has also filed a federal lawsuit challenging his right to be president.
Cruz argues that because his mother is American, he became a US citizen at birth. But the Supreme Court has not previously considered the question of whether someone is eligible to become president of the US.
Rafael and Eleanor split up a few years after Ted was born, and Rafael moved to Houston. Six months later, Eleanor and young Ted followed suit.
Lawyer turned politician
A model student after graduating from Houston's Second Baptist High School, Cruz won a place at the prestigious Princeton University in the autumn of 1988.
He went on to graduate with a Bachelor of Arts in Public Policy, before going on to Harvard Law School. From there he joined a boutique firm then known as Cooper & Carvin, in Washington DC.
In 1999, Cruz went to work as a domestic policy adviser on the George W Bush Presidential campaign, playing an important role when the result was disputed in the Florida courts.
After impressing senior Republican figures, he went on to become Texas' solicitor general, arguing nine cases in just over six years before the US Supreme Court – more than all but a few lawyers in the country.
A political career beckoned and in 2012 when Kay Bailey Hutchison retired from the US Senate, Cruz put himself on the ticket and won.
Now he's hoping to take the country. But first he most overcome Trump, who, despite calls to ban all Muslims and sexist remarks, remains the frontrunner in the Republican's search for a presidential candidate.
Cruz nonetheless remains confident that he can overcome "the Donald", telling Sky News in a recent interview that three or four weeks ago "just about every Republican in the race was attacking Donald Trump – today just about every Republican in the race is attacking me".
"That maybe suggests that something in the race has changed," he said.
His message appears to resonate with supporters in South Carolina where 63-year-old Kathy Hughes told the broadcaster: "Ted Cruz is a gentleman and he will look great in the White House and he will bring dignity back to the White House."