Israeli Police Attack Palestinian Father-of-Five with Electric Stungun [VIDEO]
Man protesting about heavy-handed police approach to teenage scuffle handcuffed and electrocuted five times in Tel Aviv water park
Footage showing Israeli policemen using an electric stungun on a Palestinian man five times has emerged on YouTube.
Talal Siad, 42, from East Jerusalem's A-Tur neighbourhood, was in Tel Aviv's Meymadion Water Park with the family celebrating the Eid holiday.
The attack happened after a broke out in the park and police were called to control it. They used pepper spray to placate one participant.
Siad, who was not involved in the row, told policemen they were using the spray too forcefully.
"I was there with my family, my five children and my wife; we went out to have fun on our holiday," he told Israeli newspaper Haaretz.
"Suddenly there was a confrontation between a few security men and kids who were fighting among themselves," he continued. "The officers wanted to arrest the boy who was seen naked in the closed-circuit television system. He fell down and they sprayed him in the face.
"I saw them repeat that action several times, and then got up with my three-year-old in my arms and shouted at them to stop. I asked the policeman, 'What are you doing? You're killing those kids,' and he told me to leave. I said, 'You're being unreasonable, you go away.'"
The policemen handcuffed him and started using the electric stun gun.
"Every time I tried to rise to my feet, he pulled the trigger and shocked me again, even though I was handcuffed," Siad revealed. "My whole body was bleeding. I vomited and then went to the hospital.
"I was shocked five times, and several times more outside the Meymadion area."
Tel Aviv police department claimed the video has been edited so that it does not reflect the real events. According to their account, the policemen were acting in self-defence.
"The man in the film attacked the policeman and interfered with him in the line of duty," Tel Aviv police told Haaretz.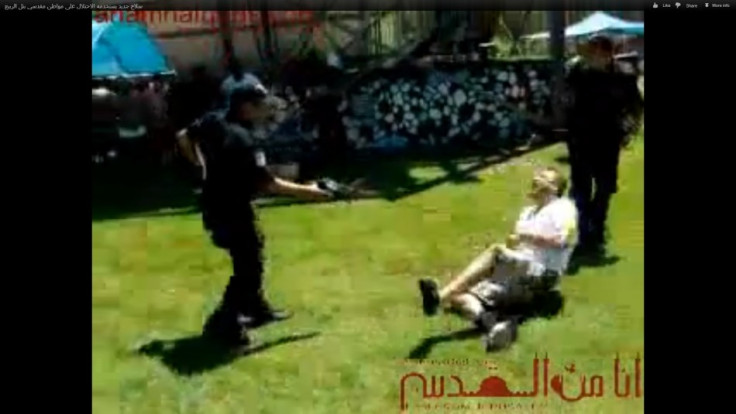 © Copyright IBTimes 2023. All rights reserved.