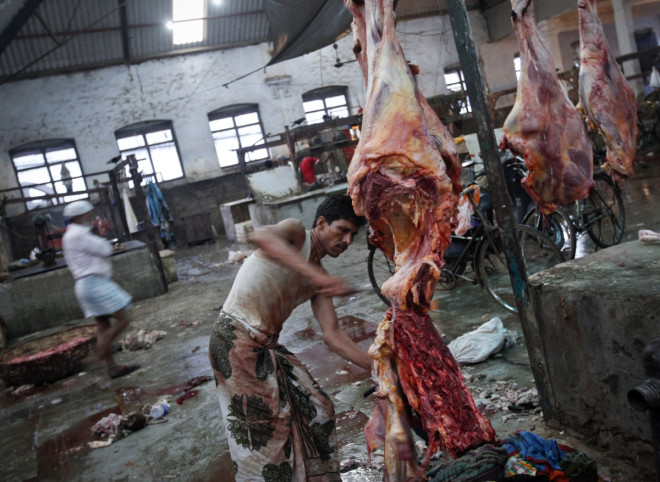 India's controversial but significant beef export industry is expected to suffer a blow if the Hindu nationalist Bharatiya Janata Party (BJP) wins the general election.
India has recently emerged as an international beef exporter, currently accounting for about 20% of global supply. The country sells beef to more than 65 countries, primarily in North America, Europe, the Gulf and south-east Asian countries.
According to the latest meat exports figures from the Ministry of Food Processing, India exported 1.89 million tonnes of beef in fiscal year 2012-2013, a 50% increase over five years. The country is also set to overtake Brazil as the world's largest beef exporter, according to some analysts.
The ever-rising growth in beef exports comes from a country with an estimated Hindu population of 828 million. Most Hindus consider cows sacred and cow slaughter is banned in a majority of Indian states, including Gujarat, Madhya Pradesh, Delhi and Rajasthan. It is legal only in Kerala, West Bengal and the north-eastern states.
The export of cow meat is banned, but the classification of buffalo meat as beef provides a loophole to traders.
While the industry remains lucrative with rising beef prices, the consumption and sale of beef always lead to fierce political and religious debates in the country.
Earlier, BJP's prime ministerial candidate Narendra Modi slammed the ruling United Progressive Alliance (UPA) government led by the Congress party for the "pink revolution", a euphemism for the meat business. He also wants to put a stop to the beef trade.
Modi is known for his strict policies against cow slaughter and pet-friendly projects in the state of Gujarat, where he is the chief minister. He recently announced plans to open a sanctuary for more than 10,000 cows, close to the birthplace of Mahatma Gandhi in Gujarat.
Beef traders and exporters in the country are presently worried as the BJP is likely to form the next government in India, according to many opinion polls.
Despite rising appetite for beef especially among urban people in India, BJP's anti-beef manifesto is expected to hit the industry severely.