Archaeologists have discovered traces of vineyards in Spain that they believe date back to the tenth century.
Archaeologists at the University of Basque Country in northern Spain claim to have found traces of 1,000-year-old vineyards in the medieval village of Zaballa in Alava province.
Zaballa is one of 300 areas in Alava province that were abandoned around the 15th century. Their heritage, landscapes and archaeological remains are the university's main areas of research.
The discovery is just one of the recent finds from the region. According to archaeologists, the terraced fields of Zaballa are perfectly visible in the landscapes and suggest that they were devoted to intensive vine cultivation.
"Archaeo-botanical studies of seed remains found in the excavations and pollen studies have provided material evidence of the existence of vine cultivation in a relatively early period like the 10th century," the university's director, Juan Antonio Quirós Castillo, said.
The discovery has been reported in the journal Quaternary International.
Castillo added that metals and agricultural instruments discovered in the region support the theory that the terraced fields were used only for vine cultivation as the tools "are not compatible with cereal crops".
Archaeologists have also found terraced fields in Zornotegi, another deserted ancient village in Alava province, used for cultivation of cereals.
"Zornotegi has a completely different history," Castillo said.
"Even though it was founded at more or less the same time, it is a much more egalitarian social community in which such significant social differences are not observed, and nor is the action of manorial powers which, in some way, undermined the balance of the community."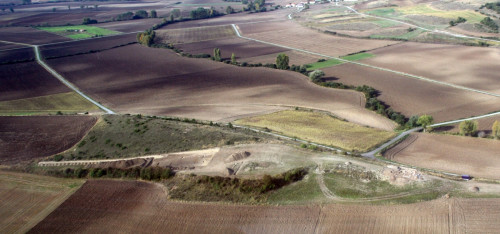 The researchers are studying the abandoned settlements of the province to understand how the farming community adapted to the political and economic changes of the Middle Ages and the reasons for the areas' abandonment.
Researchers are also seeking heritage status for the Alava province settlements to preserve their cultural history.
"The space for traditional crops, still easily recognisable in the landscapes closest to us, are historical spaces brimming with explanatory significance to help us understand the societies of the past; indeed, they require attention which they have not had until now," Castillo said.