With Thanksgiving over and Christmas around the corner, First Lady Melania Trump unveiled the White House decorations and its official annual theme for the year — Time-Honored Traditions. Filled with plenty of white decor and natural elements, photos of the freshly decorated White House made waves on social media.
"The President, Barron, and I are very excited for our first Christmas in the White House," Melania Trump said in a statement. "As with many families across the country, holiday traditions are very important to us. I hope when visiting the People's House this year, visitors will get a sense of being home for the holidays. On behalf of my husband and Barron, I want to wish everyone a Merry Christmas and joyous holiday season."
The White House specifically mentioned Melania's role in designing this year's theme and personally selecting "every detail of this year's holiday season" at the mansion.
Twitter, however, honed in on one particular photo shared by White House communications director Stephanie Grisham.
The picture showed a dark and dreary East Wing hallway lined with tall, white branches lit from below that stretch up towards the ceiling and cast ominous shadows over the walls. The creepy hallway leads towards a decor-laden Christmas tree in another room.
"The holidays are upon us!! Right now: flotus is seeing to every last detail here at the @WhiteHouse," Grishman tweeted.
While the hallway appears snowy and bright when fully lit up, social media users said the hallway seemed particularly frightening when the lights are switched off.
Naturally, the Trumps were ruthlessly roasted over the "cold and creepy" decor adorning the hallway with many describing the photo as the "perfect metaphor" for Donald Trump's first year as president.
"Are Christmas decorations supposed to give you creeping anxiety and a feeling of lingering dread?" one Twitter user wrote to which another responded: "May as well. This whole administration gives me creeping anxiety and a feeling of lingering dread."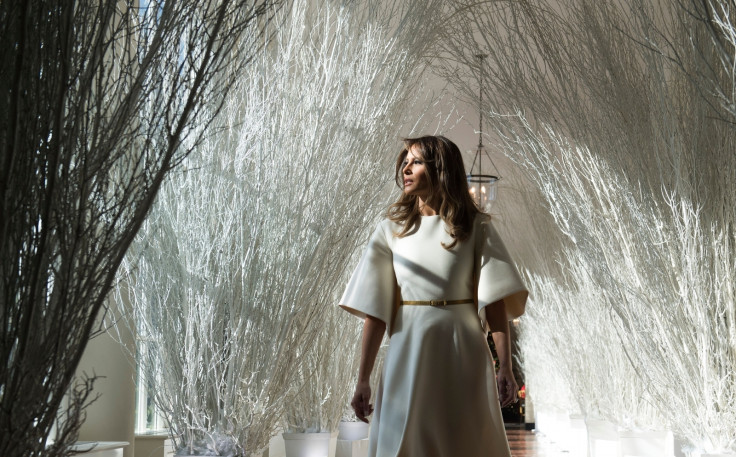 "Why do the White House Christmas decorations look like Voldemort is about to come back," one user tweeted.
"I'm pretty sure you accidentally posted a shot from the set of "Stranger Things," a person chimed.
Others chose to add their own little edits to the photograph, from Jack Skellington and Pennywise to the Grady twins from The Shining.
"I guess Tim Burton did the mood boards for Melania Trump's @WhiteHouse Christmas," Justin Hendrix tweeted.