Foreign ministers of South Korea, Japan and China are finally set to meet in Tokyo where they will address ongoing territorial disputes and regional security matters. The discussions were earlier expected to be delayed over the disagreements among the three countries.

The top diplomats will be in the Japanese capital holding talks on Tuesday (23 August) and Wednesday (24 August) discussing trilateral cooperation on regional affairs.
Topic over the rising tensions in the Korean peninsula over North Korea's increasing belligerence is also bound to feature prominently during the discussions. Both Japan and South Korea have repeatedly called for more global efforts especially from China, a key ally and trading partner of North Korea, to put more pressure on Pyongyang.
Japan's Foreign Minister Fumio Kishida is expected to have a bilateral meeting with his Chinese counterpart Wang Yi during Tokyo's likely protest against the recent incursion of Beijing's vessels in disputed territories. This will also be Wang's first visit to Japan since he took over in 2013.
Ahead of the trilateral talks, China's foreign ministry spokesperson Lu Kang said: "Cooperation among China, Japan and South Korea is significant to the region. We hope the trilateral meeting can [help maintain] the cooperation and work towards the goal of setting up an economic ­community by 2020." However, he evaded the question on whether Beijing's minister would hold one-to-one talks with his Japanese counterpart saying the meeting is not intended for bilateral discussions.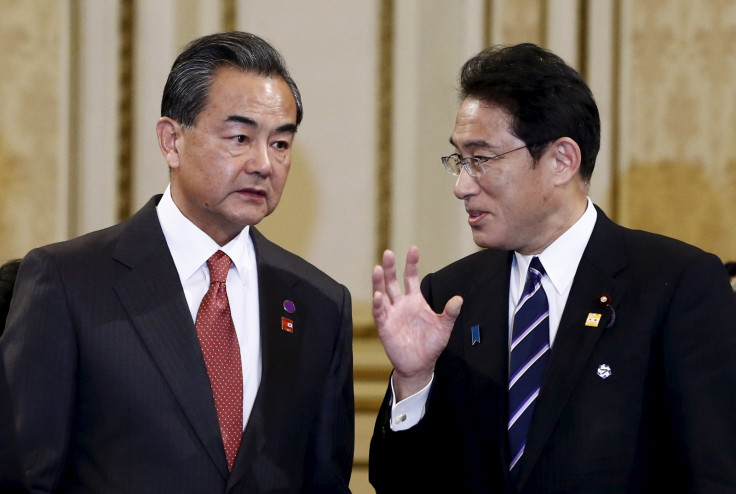 Tokyo has registered more than 30 protests since the beginning of August after Chinese vessels entered the hotly contested chain of islands – known as Senkakus in Japan and Diaoyu in China. Record number of Chinese vessels visited the islets in recent weeks constantly raising the stakes in the risky geopolitical game.
On the other hand, relations between South Korea and China have also soured in recent months after the US's decision to deploy the sophisticated Terminal High Altitude Area Defense (Thaad) anti-missile system in the Korean peninsula. This was again underscored when South Korea scrambled fighter jets to escort the three Chinese military planes when they entered a disputed airspace of air defence zone.