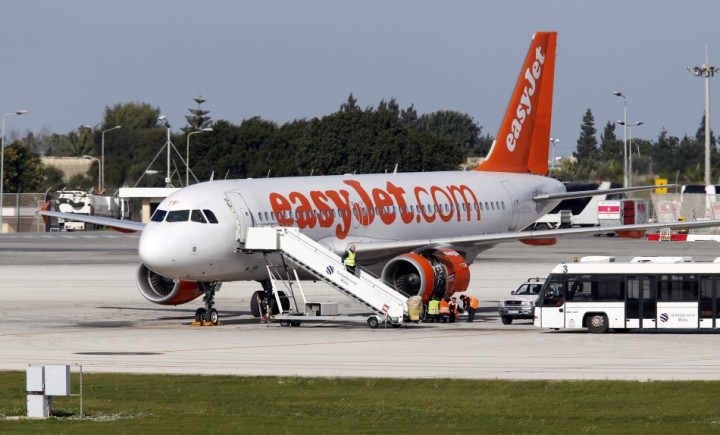 A newlywed couple spoke of the rocky start to their marriage when their easyJet flight plummeted mid-air, flinging three members of the cabin crew to the ceiling.
Lucy and David Westbrooke who married three days ago in Sevenoaks, Kent, were on the way to their honeymoon destination near Naples, when the plane entered a fierce thunderstorm and experienced extreme turbulence, causing the plane to nosedive at one point.
Three air stewards hit the ceiling with one suffering a broken hip and was later treated by paramedics.
The couple was wearing their seatbelts, but they said other passengers were being thrown out of their seats and hitting their heads.
"It was terrifying – what a start to married life. One stewardess said this was by far the worst she had experienced," Mrs Westbrooke said.
"Suddenly people were being thrown out of their seats and hitting their heads.
"Suitcases were being thrown out of the lockers overhead. There was just utter panic. People were screaming. There was a baby thrown up in the air and the mother was just beside herself.
"Some of the Italians on board were praying."
Mr Westbrooke, 32, added: "We nose-dived. All three cabin crew hit the ceiling."
The flight carrying 154 passengers and six crew had to do an emergency landing in Rome.
An easyJet spokeswoman said: "We can confirm that flight EZY8529 from London Gatwick to Naples on 1 September diverted to Rome Fiumicino due to thunderstorms over Naples.
"The safety and wellbeing of our passengers and crew is easyJet's highest priority and our pilots are highly trained to manage turbulence. Unfortunately due to the turbulence one of our crew sustained an injury, and as such were met by paramedics upon arrival at Rome Fiumicino airport in line with our procedures.
"The aircraft landed safely and routinely and all passengers disembarked normally and were transported to Naples by coach. easyJet would like to apologise to passengers for any inconvenience caused."