UPDATE - All Products and Prices Revealed: Tesco Black Friday Deals Discount TVs, Consoles, Toys and More
Chromecasts, Beats headphones, Xbox One and more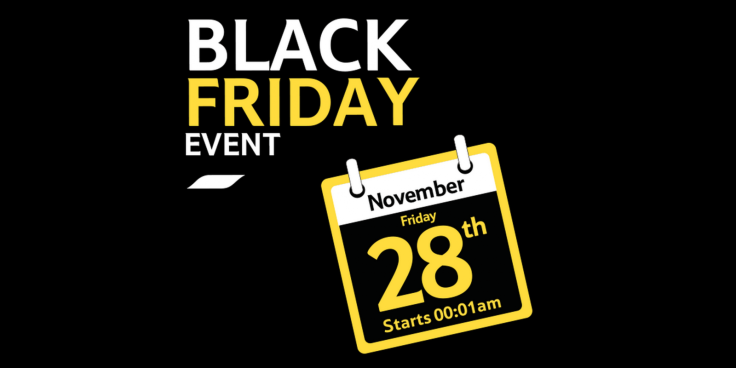 Update 16: At 11:40am, almost 12 hours after Tesco Direct's Black Friday deals were supposed to go online, the site is finally live. There, you'll find a PlayStation 4 with Driveclub for £289, and those 50in Blaupunkt TVs which everyone has been fighting (literally fighting) over for £249. There are also iPad Airs (albeit last year's model) for £329.
Update 15: At 1.30am we're calling it a night, but will update the page first thing in the morning IF the Tesco website decides to play ball and actually, you know, load.
Update 14: While things are not going well online (website is still inaccessible) there are also issues in-store:
Update 13: According to Hot UK Deals, one of the Tesco Black Friday Deals you can get a PS4 (500GB) on its own for £279, which is a saving of over £70.
Update12: The Tesco Black Friday Deals website has been offline since midnight when it went live and just like thousands (millions) of you, we haven't been able to get access to it, but once we do we will update this page.
Update 11: Just two hours to go before Tesco stores online and in real life open their doors to bargain hunters, and here's another leaked deal, and again it's one for parents. I have to admit I had to Google this one, but apparently it's a toy that has snot dribbling from its nose....cute.
And here's a picture in case you were wondering....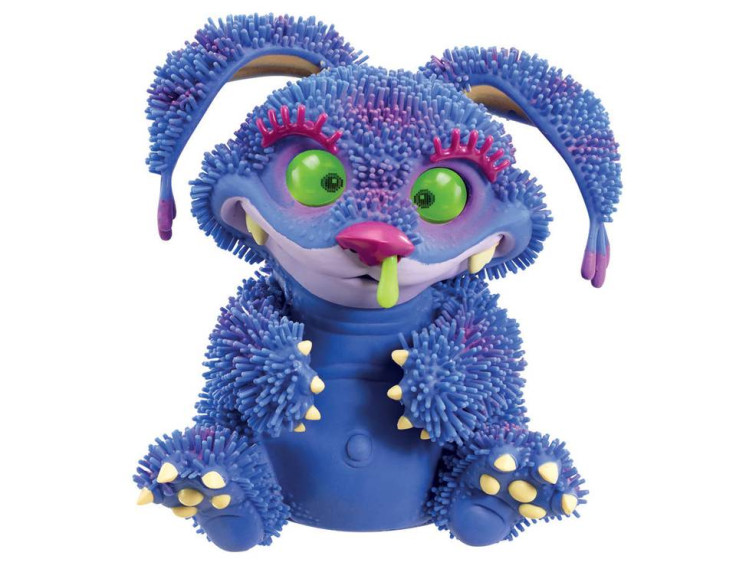 Update 10: PARENT ALERT!!!!! - the Frozen soundtrack (not karaoke) is just £5 (down from £8) in Tesco apparently. Either this will be great news or for those of you ready to scream every time you hear "Let It Go"....maybe not.
Update 9: Tesco's social media team showing their sense of humour here:
Update 8: Looks like Tesco itself is putting some Black Friday deals online ahead of schedule, with these Monster N-Tune Headphones (in Candy Blue....mmmmmm) getting a £20 discount to £79.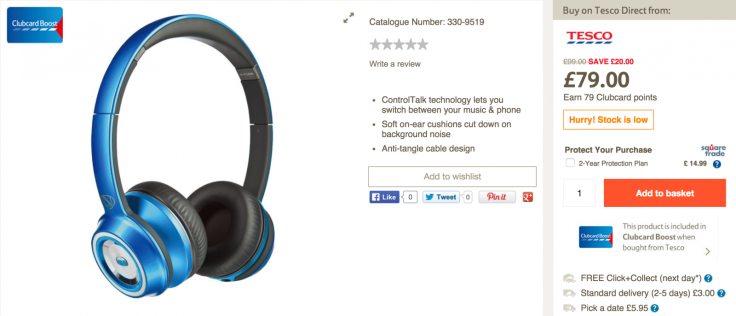 Update 7: More details about Tesco's Black Friday deals are emerging, with one of the hottest being the price cut to Google's Chromecast streaming dongle down to £18 (normally £30).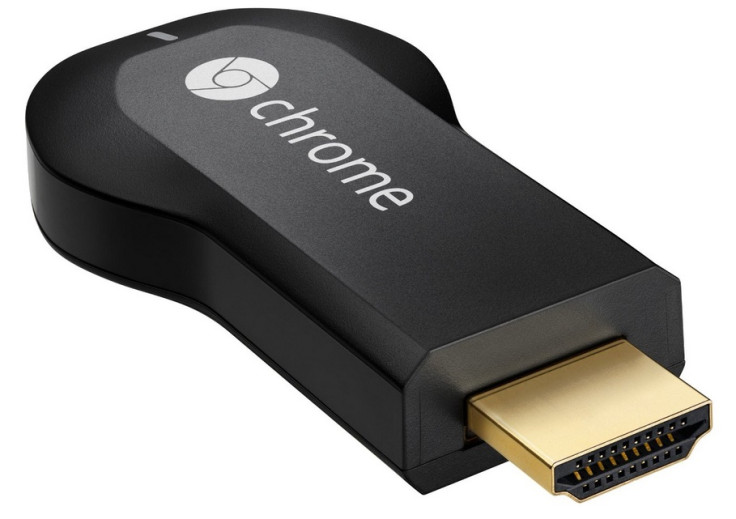 The Chromecast seems to be one of the biggest products of Black Friday 2014, with Currys/PC World offering it for £20.
Update 6: Following the release of the names of all products released during Tesco's Black Friday, we have begun to get some more details about pricing of these products.
Update 5: More sources have leaked what looks like a comprehensive list of all products which Tesco will offer in its Black Friday deals tomorrow, though prices are not included. The list includes everything from Chromecasts and Now TV boxes to kettles, toasters, Xbox One bundles and Beats headphones.
We're going to keep looking for those prices and will report back when we have more.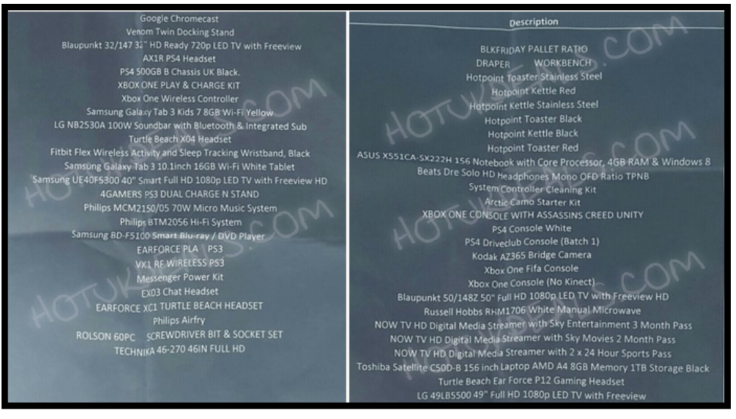 Update 4: Details about Tesco's deals are now beginning to trickle out from sources deep within the retailer's secret HQ (or maybe from nosey checkout workers bored on their break), but either way the latest deal is a PS4 bundle including DriveClub for just £289, which if true sounds like a pretty good deal to us.
If you're interested why not read Ed Smith's great piece on DriveClub here.
Update 3: Another Tesco deal from "sources" claiming that you will be able to nab a 32in Blaupunkt TV for just £99 (via Hot UK Deals). Again, like the iPad mini deal earlier, this should be taken with a pinch of salt but if true, could be a really good bargain.
Update 2: That deal has now been marked as Spam by HUKD, so may not actually be happening.
Update: An intrepid HotUKDeals user is claiming Tesco will be selling an iPad Mini for £139.99 tomorrow. No details on what model it is, but judging from the price the assumption is that it will be the original model which means it is still £60 cheaper than from Apple.
Despite some sticking their heads in the sand and saying that Black Friday is a US-only event, there is no getting away from the fact that in the UK, this is now one of the most important shopping days of the year for all retailers.
And so, it is no surprise that all the major supermarkets are looking to cash in on the trend. We have already seen Asda and Sainsbury's announce what they will be doing for Black Friday, and now Tesco has given some indication of the savings its customers can expect.
While it has yet to give any specific details about brands and products it will be discounting, Tesco has teased some information about its Black Friday Deals:
Discounts will be applied to 200 products across electrical, entertainment, mobile, DIY products and children's toys.
A leading branded coffee machine will be discounted by 70%
There will be 50% off a HD ready LED TV
Significant discounts off gaming console (Xbox One and PS4) bundles
IBTimes UK has pushed Tesco to give some more details about the deals it will offer, and when we hear from the UK's leading supermarket we will update this page.
The deals will be available from one minute past midnight on Friday and deals will be available both online and offline. The sales event will last for three days and Tesco says it will amount to £15 million in savings for customers.
According to Rob Hattrell, the general merchandise director for Tesco, this is Christmas come early for the retailer:
"Black Friday now marks the real start of Christmas shopping and Tesco is recognising this with its Black Friday sale in-store and online." Tesco even goes so far as to say it expects this year's Black Friday sales to surpass Boxing Day sales for the first time.
Hattrell also points out that you don't have to leave your armchair to make the most of the deals: "With our recent extension of our free Click & Collect service for non-food items to all 2,600 Tesco stores, customers can shop whenever they want, however they want and we expect that over two thirds of those snapping up a Black Friday bargain online will choose a Click & Collect option for delivery."
© Copyright IBTimes 2023. All rights reserved.