Police were called to stores in London and other British cities in the early hours as chaos ensued at supermarkets and large stores holding Black Friday sales.
The consumerist frenzy that follows Thanksgiving is the biggest shopping day of the year in the US and is rapidly growing in popularity in Britain.
Police were called to at least four supermarkets in London due to overcrowding and shoppers fell to the ground as they rushed into an Asda store in Wembley.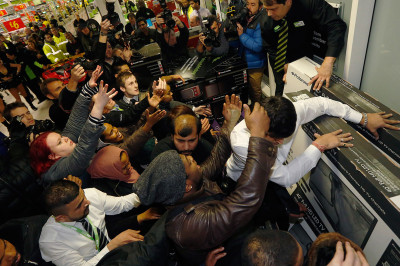 Across the pond, millions of Americans headed to the stores for bargains in what's quickly becoming a new tradition on Thanksgiving, a day once dedicated solely to family and feasting. Just a few years ago when a few stores started opening late on the holiday, the move was met with resistance from workers and shoppers who believed the day should be sacred.
Last year, more than dozen major retailers opened at some point on Thanksgiving evening. And this year, at least half of them — including Target, Macy's, Staples and JC Penney — are opening earlier in the evening on the holiday.
The Thanksgiving openings are one way retailers are trying to compete for Americans' holiday dollars. Previously, stores would advertise bargains on the day after Thanksgiving, but increasingly, they've been pushing those promotions into the holiday itself, to grab deal-hungry shoppers' attention.
Not every store opened on Thanksgiving, though. Some, including GameStop, Costco and Ikea, said they won't open because they want their workers to enjoy the holiday with their families.