Black Friday: GAME Begins Deals on Xbox One, PS4, PC and Wii U Titles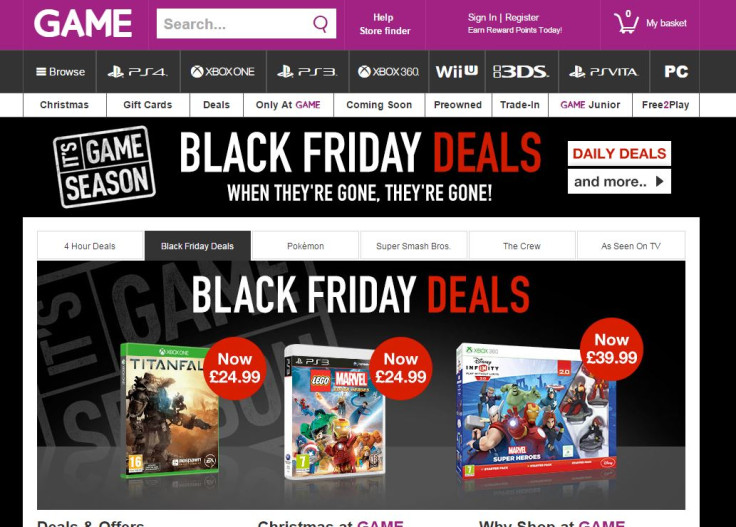 Update:
Game have confirmed an Xbox One bundle with four games and £5 of Xbox Live credit for £299.99.
Original Story:
Video game chain GAME have begun their Black Friday deals, focusing on three four-hour deals throughout the day.
FIFA 15 is currently available on Xbox 360 and PlayStation 3 for £31.75 until 12pm GMT. Following that, Plants and Zombies: Garden Warfare will be on sale between 12pm and 4pm. Last up is Battlefield 4 between 4pm and 8pm.
PC versions of Dishonored and Remember Me are currently on sale for £2.49 and £5.75 respectively. Middle-Earth: Shadow of Mordor is also available on PC for £17.49.
The PlayStation 4 and Xbox One versions of Shadow of Mordor are also on sale for £24.99.
At 6pm this evening (Thurs 27 Nov) GAME's hourly deals will begin ahead of the midnight opening of stores across the country tonight.
A full list of the stores participating in the midnight opening can be found here, as well as their opening times on Friday morning. Over 300 are opening with only 16 not participating.
The GAME stores not opening at midnight are Belle Vale, Boscombe, Braintree, Bristol (Galleries branch), Clydebank, Glasgow (St Enoch and Braehead branches), Hamleys on Regent Street in London, Hanley, Hempstead Valley, Liverpool (St John's Shopping Centre), Hammersmith, Londonberry, Manchester (one of the Arndale branches), Skegness and Wood Green.
Here are more of the deals currently available on the GAME store:
Halo: The Master Chief Collection Limited Edition - £39.72
Just Dance 2015 on PlayStation 4, Wii U, Wii, and PS3 - £19.99
Titanfall on Xbox One - £24.99
Disney Infinity 2.0 Marvel Superheroes Starter Pack on Wii U, Xbox 360 & PS3 - £39.99
Disney Infinity 2.0 Marvel Superheroes Starter Pack on PS4 & Xbox One - £44.99
GAME also have their selections of PlayStation 4 and Xbox One bundles.
© Copyright IBTimes 2023. All rights reserved.