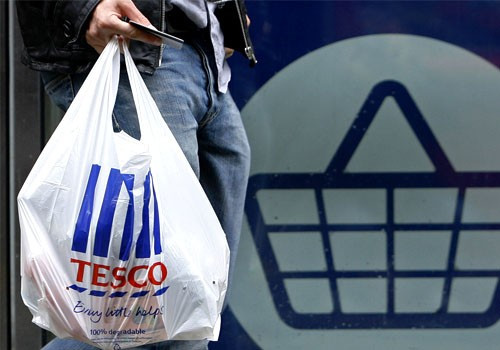 Shares in Tesco were down on the FTSE 100 in morning trading after the supermarket giant reported a "subdued" set of results for the first quarter ended 28 May.
Group sales in the period, excluding petrol, rose 6.7 per cent, however in the United Kingdom alone sales rose 4.9 per cent. Tesco said that it faced a "cautious consumer environment" in Britain.
Internationally the group saw a rise in sales of 9.3 per cent, with the United States seeing the strongest growth of over 20 per cent, although Asia and Europe also saw sales rise 8.6 and 9.5 per cent respectively.
Tesco Bank reported a rise in first quarter sales of 19.9 per cent.
Looking ahead Tesco said that it was "performing in line with market expectations and the outlook for the year as a whole remains unchanged".
Philip Clarke, Chief Executive of Tesco, said, "Tesco has made a good start to the new financial year, despite consumer sentiment in many of our key markets remaining subdued. The overall performance of our businesses in Asia and Europe has again been pleasing, led by further strong growth in Thailand and across our Central European region. Uncertainties remain but with early, encouraging signs of better performance emerging in both the UK and the US, I am confident that this start will provide the platform for another year of growth and rising return on capital employed for Tesco.
We're also making progress with our strategy: improving the shopping trip for customers; increasing productivity; winning market share - whilst at the same time investing for long term growth in important new products, new space and in our online capability."
Richard Hunter, Head of UK Equities at Hargreaves Lansdown Stockbrokers, commented, "Tesco was always going to be swimming against the tide with this update. A cocktail of anaemic UK numbers, high expectations and a market in little mood to take prisoners have conspired to mark the shares down in early trade.
"The company cited "subdued" sentiment and "constrained demand" as being responsible for a weak performance in the UK and other key markets. In addition, the upward pressure on inflation has been largely driven by higher energy and food prices, both of which feed straight through to the likes of Tesco both directly and indirectly. There are, however, other positives within the statement - group sales increased over 7% year on year, Tesco Bank saw strong growth in revenue, the US business is showing signs of life and overseas demand in the likes of China continued to underpin the overall growth story.
"In all, Tesco seems to be seen as tomorrow's story. The planks to its strategy are in place, particularly in furthering international diversification. Until the company is seen to be delivering fully on this potential, the shares may well continue to struggle to make significant progress. A 3% increase in the price over the last year compares to an 11% gain for the wider FTSE100, and is testament to Tesco's current ability to underwhelm. Even so, investors remain patient and hopeful for future prospects, with the general market consensus continuing to come in as a buy."
By 08:55 shares in Tesco were down 0.90 per cent on the FTSE 100 to 403.55 pence per share.