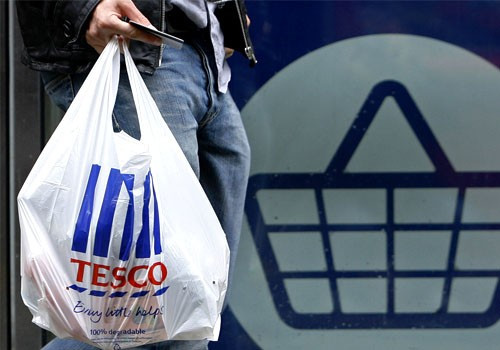 Shares in Tesco were down on the FTSE 100 ahead of the supermarket giant's full year results, expected tomorrow.
The group's last major update saw it report strong growth in international sales offset weaker sales in Great Britain over the Christmas period.
Total sales were up 7.6 per cent, however in Great Britain sales growth was a mere 0.6 per cent, thanks to the cold weather and tough comparatives.
Recent inflation data - there was a fall in inflation from 4.4 per cent to 4.0 per cent from February to March - also reveals that food prices are going down despite rising food commodity prices, suggesting that supermarkets are cutting prices to boost sales, something that may affect Tesco's profit margins.
Ahead of tomorrow's results analysts have predicted a rise in Tesco's sales of 8.4 per cent to £61.7 billion and an increase in pre-tax profit of 11.7 per cent to £3.54 billion.
Keith Bowman, analyst at Hargreaves Lansdown, said, "Any future strategy comments from the new chief executive, Philip Clarke, will likely head the agenda for investor's. Although Mr Clarke's long employment history at Tesco may see any change taking the form of 'evolution as opposed to revolution', plans to revitalise UK sales and further outline international growth drivers are likely to prove central for investors.
"Prior to the results, market consensus opinion currently denotes a buy."
By 15:15 shares in Tesco were down 1.26 per cent on the FTSE 100 to 402.10 pence per share.