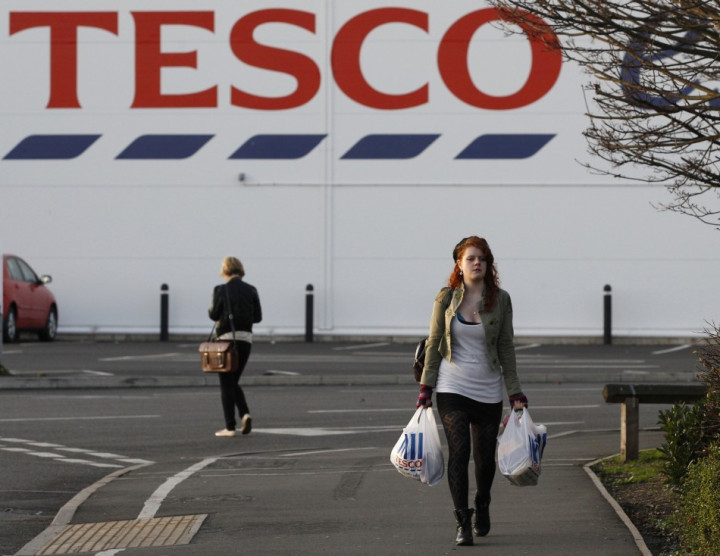 Tesco shares were up after Britain's biggest supermarket posted a 2 percent rise, excluding petrol, in global sales for the first quarter, though its UK business continues to struggle in a difficult retail environment.
The company said it is still going through a planned overhaul of its UK business, which saw like-for-like sales drop in the first quarter, after poor Christmas trading led it to issue its first profit warning in 20 years, saying 2012 profits would be "minimal".
"Tesco has performed robustly in the first quarter despite subdued consumer confidence in all our markets," Philip Clarke, Tesco chief executive, said in a statement.
Shares in Tesco PLC were up 0.9 percent in London to 303.7 at 08:55 BST.
Though Tesco said its UK business performed "as expected", like-for-like sales - excluding VAT and petrol - slumped by 1.5 percent quarter on quarter in the first three months of the year.
Britain is wallowing in its second recession in four years, with sticky inflation, high unemployment, and rising fuel bills all putting a strain on household budgets and dampening consumer confidence, which has hurt the retail market.
Tesco's Asian market saw sales grow by 9.1 percent at constant exchange rates (CER), while Poland, Slovakia, and the Republic of Ireland helped the company to a 6 percent sales rise at CER in struggling Europe.
"Internationally, like-for-like sales growth proved resilient, despite slowing economic growth in China and the emerging impact of recently introduced shopping hours legislation in South Korea," said Clarke.
"Against the backdrop of continuing uncertainty in the eurozone, it is pleasing to see that our businesses have largely sustained their performance."
While the Queen's Diamond Jubilee celebrations fell in the second quarter, Tesco noted that it saw its biggest ever week outside of the Christmas period with £1bn in sales.