The Tesla Model 3 might well be the key to bring electric cars to the masses, but it doesn't have one of its own.
Instead of a key, or even a key fob like all other cars (including other Teslas), the Model 3 relies on a smartphone application and Bluetooth.
Once installed and logged into on the owner's smartphone, they only have to walk up to the car with the phone in their pocket; the doors then unlock and the car switches on, ready to be driven away.
Buyers also receive an NFC pass resembling a credit card. Using the same technology as the Oyster public transport passes in London, Apple Pay and contactless bank cards, this can be used as a backup should you be without your phone or the battery dies.
The card can also be given to valet attendants to park the Model 3. It unlocks the car with a tap on the driver's door handle, then starts the vehicle with a tap between the front seats.
Minimalism is order of the day with the Model 3, particularly with the interior. There are no traditional dials or gauges at all, because all driver information - from speed and sat-nav, to music, time and climate control - is displayed on a single 15in touch screen mounted to the middle of the dashboard.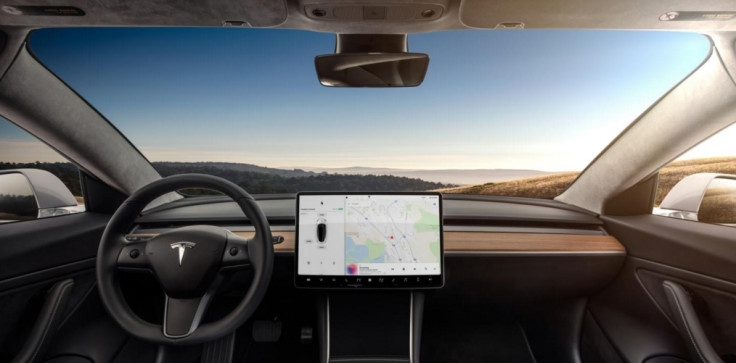 Located centrally means the switch from left- to right-hand drive production in the coming years will be simpler and more cost-effective than with other cars.
Even the car's air vents are embedded into the dashboard, and are controlled from the touchscreen. Most major controls, including those to adjust the wing mirrors and steering wheel position, are accessed via two clickable scroll wheels on the spokes of the wheel itself.
The Model 3 starts at $35,000 (£26,700) and has a range of 215 miles. A $44,000 version has a 310 mile range, a lower 0-60mph time (5.1 seconds vs 5.6) and a higher top speed (140mph vs 130mph).
Available in the US now, Tesla is accepting £1,000 deposits for the first UK cars, but deliveries here aren't expected until 2019.