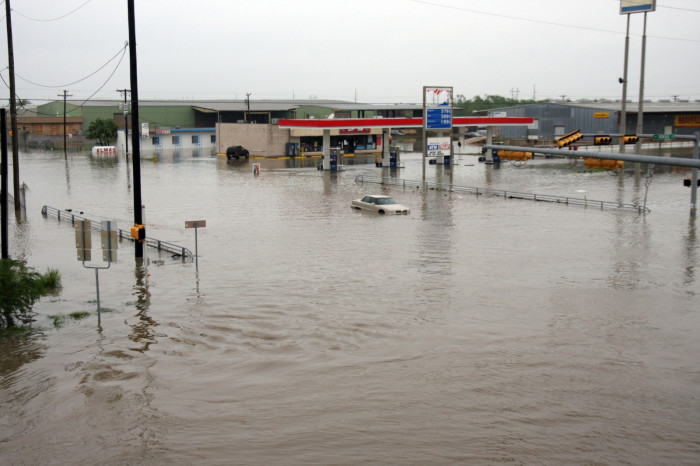 A mandatory evacuation order has been signed for parts of Texas after torrential rains caused rivers to rise by as much as 20ft (6m).
So far, 335 homes are under a mandatory evacuation order but that could be expanded if the record-breaking rains continue. Residents of over 2,000 homes are being advised to leave for higher ground.
The city of Wichita Falls is worst affected with residents up to half a mile from the Wichita River in the north of the city being told they should be prepared to leave their homes immediately. Sandbags are being placed along the banks of the river and officials going door-to-door to advise people to leave.
Wichita Falls Mayor Glenn Barham said thousands of people would have to be evacuated if predictions that another four to six inches of rain fall tomorrow (Monday, 25 May). The river is already at 21.07 feet but that could rise to a record-breaking 25.5 feet by Tuesday.
Responding to criticisms that the authorities were being too cautious Wichita Falls Fire Chief Jon Reese said: "We may draw criticism for being too proactive, but if we're criticized for being too early, that's OK."
Heavy rainfall is also affecting other southern states including Louisiana, Arkansas and Missouri. In Oklahoma a firefighter died attempting to perform a high water rescue operation in Claremore, said emergency management official Thomas Hudson.
The US National Weather Service is calling the downpour a historic flood event. Flash warnings are in place for much of the south.
Meanwhile, California is enduring its fourth year of drought, with mandatory water restrictions now in place for many residents of the state. Police in San Francisco say vandals have caused "irreversible damage" to an inflatable dam holding emergency supplies of fresh water, causing 50 million gallons to flow into the bay instead of being available for city homes.