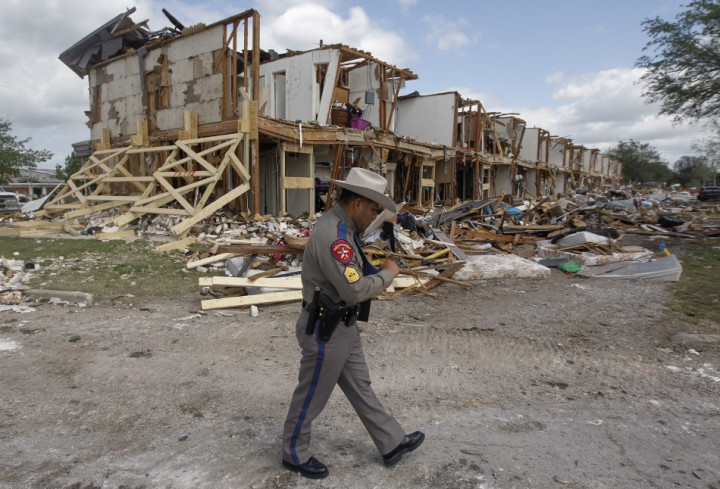 A month of investigations into a fire that triggered a deadly explosion at a Texan fertiliser plant has left authorities none the wiser as to the cause.
The number of theories has been whittled down to three but investigators have been unable to come up with a definitive cause. Arson has not been ruled out.
Fifteen people died and 200 were injured on a massive explosion that hit West fertiliser plant, 18 miles north of Waco.
Investigators said the fire that triggered the blast could have been caused by a fault in the electrical systems, a battery-powered golf cart, or a criminal act.
All other possibilities, such as a rail car on site loaded with fertiliser catching fire from a discarded cigarette, have been ruled out by the $1m investigation, the Bureau of Alcohol, Tobacco, Firearms and Explosives (ATF) and the Texas State Fire Marshal's Office said.
A golf cart was parked in the room where the fire broke out and such vehicles' batteries and capacitors are able to ignite a blaze if they fail, officials added.
They refused to comment on possible links between the blaze and Bryce Reed, a paramedic who was among the first people on the scene who was arrested in possession of what authorities said were materials for a pipe bomb.
"At this time, we won't speculate on whether there is a connection between [Reed] and the fertiliser plant explosion," said AFT special agent Robert Champion.
Reed pleaded not guilty to possession charges and denied any involvement in the explosion. McLennan County Sheriff's Office has already said there was no evidence linking Reed to the explosion.
Ammonium nitrate
Officials ruled out the plant's higher-voltage electrical system as a cause of the blaze but conceded that the fire could have originated in the smaller 120-volt electrical system.
The fire caused ammonium nitrate to explode, fire marshal Kelly Kistner said. The power of the blast was equivalent to about 20,000lbs (9,000kg) of TNT.
"As temperature increased, the pressure increased, which made the ammonium nitrate change states and its sensitivity to shock increase," Kistner said.
Two explosions were eventually triggered - a small one that occurred about 20 minutes after the fire was reported, followed by a larger one a split second later, Kistner said.
Ten firefighters and two bystanders who tried to help them were among the victims.
"At this time, the state fire marshal's office and ATF are ruling the cause of this fire is undetermined," state fire marshal Chris Connealy said.
"While the scene examination has been completed, the investigation will remain open for purposes of conducting additional interviews, following up on leads, and the like."