Thai Junta Continues Crackdown as Key Figures Report to Army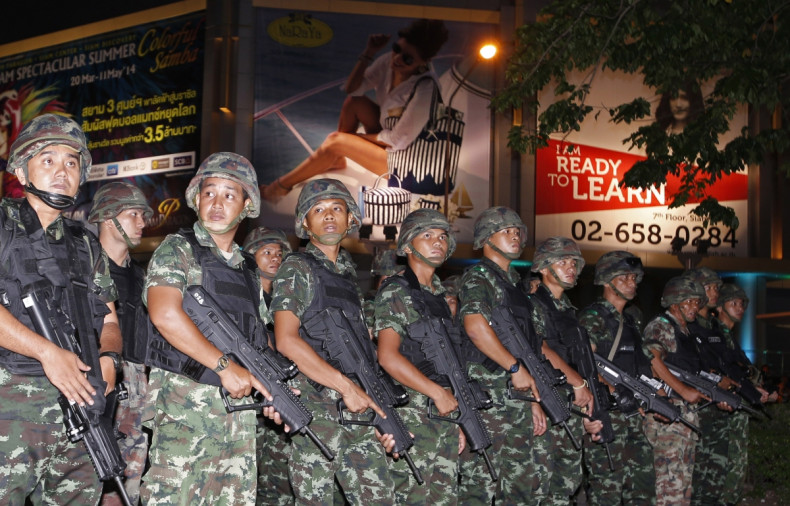 Continuing its crackdown on politicians and opinion-makers, the Thai junta is summoning and detaining key figures.
At least 35 prominent people including academics have been summoned, a day after the army called more than 100 leaders.
The order from the National Peace and Order Maintaining Council (NPOMC) has told leading pro-democracy writers and scholars to report at the military auditorium in Bangkok.
Journalists and cameramen are not allowed inside the building which is heavily guarded by troops.
When former prime minister Yingluck Shinawatra reported to the NPOMC along with several other politicians, she was detained by the army; coup officials have assured she is safe.
Speaking about the detention of the former leaders, a military spokesperson named Colonel Veerachon told Al Jazeera: "We are looking after them very well. They are all under detention. We want them to talk and give them some time to relax. They are not together at the moment."
Meanwhile, the US has suspended its $3.5m (£2.1m) in military aid to Thailand citing the coup.
"We have already suspended approximately $3.5 million. We are reviewing all programs to determine other assistance which we may suspend," US State Department spokesperson Marie Harf told reporters.
"We urge the immediate restoration of civilian rule, a return to democracy and, obviously, respect for human rights during this period of uncertainty."
The US has also updated its travel advisory to its nationals. It urged US citizens to "reconsider any non-essential travel to Thailand".
"US citizens are advised to stay alert, exercise caution and monitor international and Thai media."