Thailand's Supreme Court has dismissed a criminal defamation case against Andy Hall, a British rights activist with Migrant Worker Rights Network. The case was filed by a local fruit canning company and the attorney general for allegedly criticising conditions in the country's food industry.
The case related to an interview that Hall gave to the Al-Jazeera television channel in Myanmar in April 2013, where he spoke about his earlier criminal prosecution by Natural Fruit Company.
Since the comments were made in Myanmar, the Thai Supreme Court dismissed the appeal saying it has no jurisdiction. The court also noted a flawed and unlawful interrogation process during police investigation of the case.
However, his suspended prison sentence in two other civil defamation cases stands. These cases too were filed by the fruit company for damages against Hall and sought around £9m in compensation. Both the cases were put on hold in September pending the criminal defamation case.
"I feel very happy about the verdict as this case was an injustice to me," the Associated Press quoted Hall as saying after the verdict.
Hall now plans to sue the attorney general, the prosecutor, the police and the fruit company for unlawful prosecution.
"I do so with deep regret and not at all in anger or through any desire for personal retribution. It is necessary to launch these counter prosecutions simply because I must defend myself fully against judicial harassment by Natural Fruit that shows no signs of abating," he said.
The case has raised concerns among activists and critics over Thailand's criminal defamation laws, which it is feared, could be used to silence whistleblowers and critics. The law prescribes a minimum seven-year jail term.
Hall was found guilty of criminal defamation and computer crimes by the Bangkok South Criminal Court in Thailand in September, after he published a report over three years ago that alleged labour abuses at a large pineapple wholesaler and others, for a Finland-based watchdog group, Finnwatch.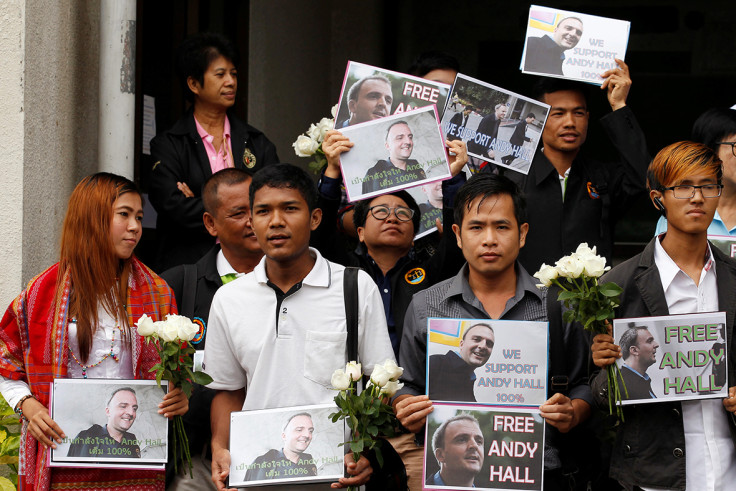 Hall was first sentenced to four years in prison, but his term was later reduced by one year and suspended by two years. That sentence remains now; however, Hall is reported to be planning to appeal against the conviction. He was also fined Thai baht 150,000 (£3,483, $4,294).
Sonja Vartiala, executive director of Finnwatch, said: "The campaign of judicial harassment that has been waged against Andy Hall for almost four years now has already sadly been successful. As many have feared, this campaign has also had a negative impact far beyond the case of Andy himself. We have heard from a number of migrant workers and activists how they are now deeply afraid to speak out on abuse workers face from Thai employers."