Thailand, a predominantly Buddhist country with a population of approximately 66 million people, is modernising rapidly and yet at the same time manages to remain highly superstitious, with its Buddhist beliefs often coexisting side-by-side with animism, astrology and 'black magic' rituals. Its latest craze is an obsession for pampering on glamorous dolls known as 'luuk thep', or 'child angels'.
The dolls, which are not too dissimilar to lifelike rubber children, are thought to invite benevolent spirits to possess them, with the hope that they will bring good luck, wealth and protection from harm. Although they seem harmless, police have since arrested three doll vendors on charges of tax avoidance, resulting in more than 100 dolls being seized.
The child angels can cost anywhere from 1,500 baht ($40, £28) and can fetch prices upward of 30,000 baht ($837, £587) and are said to bring good luck, wealth and protection from harm. They were first popularised by celebrities, who made the rather questionable judgement that by dressing the dolls up in elaborate clothing, feeding them and carrying them like real children, the dolls had brought them professional success.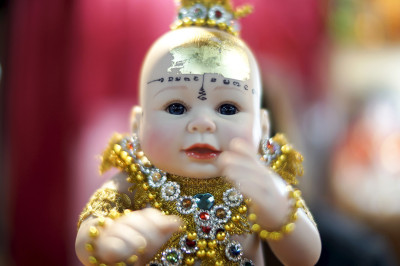 Some say the doll mania reflects anxiety over Thailand's struggling economy, which is why there is a tendency to turn to animist beliefs during times of uncertainty, with some owners bring their dolls to temples for monks to instill powers in them.
Phra Winai Thidtapanyo, a 64-year-old Buddhist monk at Bua Khwan Temple says he has blessed more than 30,000 dolls since last year.
"Before I make the auspicious markings, I ask them what is troubling them that caused them to do this [raise child dolls]. After I preach to them and they understand my preachings, I think OK, I will do it as moral support to help them get through [the problem]. Since then, people have constantly been coming to me."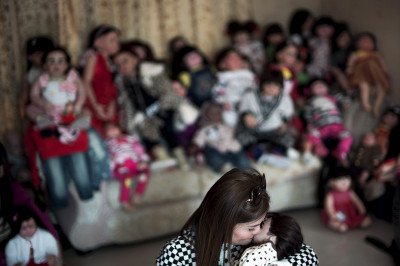 'Luuk thep' dolls have become so popular in the past year that a low-cost local airline, Thai Smile, has been forced to draw up new guidance for staff on passengers bringing on board these dolls, with some even getting their own seats, under the condition that the dolls wear seatbelts. The new trend has even prompted several restaurants in Bangkok to offer children's meals to the dolls. The subsidiary of national flag carrier Thai Airways, Thai Smile said it would charge passengers who bring the dolls on board but would serve them snacks. Other companies have cottoned on to Thailand's growing obsession; Neta Grill, a restaurant in Bangkok, advertises meals for the dolls on its Facebook page, saying it would charge their owners children's prices for its buffet.
With more and more allowances being made for the lifelike dolls, it appears that the owners are beginning to feel that their lucky powers work. Wilairat Daengsongchroey, 17, who said she has been raising her doll for around eight months so far, stated that her doll "gave me a better life. She helped me earn more income from when I earned very little. I've won many lotteries".
Natsuda Jantabtim, 45, a beauty-salon owner who lives with her daughter and doll called 'Nong Ruay Jung' ('Pretty Rich') says: "I can see it in other people's eyes. I know some of them must be wondering why I am carrying a doll, but I just don't care."